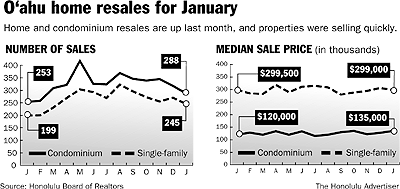 Advertiser Staff and News Services

Buyers snapped up properties quickly last month, pushing sales of existing houses and condominiums on O'ahu to another monthly increase and marking the 43rd consecutive month of rising sales.
Single-family home resales rose more than 23 percent in January, to 245 compared to 199 the same month last year, according to statistics released yesterday by the Honolulu Board of Realtors.
Median house prices were relatively unchanged, slipping slightly to $299,000 compared to $299,500 the same month in 2000.
Condominium resales remained strong, rising nearly 14 percent to 288 units compared to 253 the same month last year. The median price rose 12.5 percent, from $120,000 to $135,000.
Median means half the homes sold for more than that price and half sold for less.
"As we enter the new year, O'ahu housing resales continue to be robust," said Peter Freeman, president and chief executive of the board. "This is a very stable and healthy market, one of significant sales expansion but moderate price movement."
Sales also have been brisk, with the board saying the median time on the market before a sale dropped to just 44 days last month, compared to 63 days in January 2000.
The board said dollar volume of sales for the month also was up strongly — nearly 25 percent — at $148.2 million compared to $118.9 million the previous year.
Residential real estate experts have predicted another strong year of sales, but possibly at a somewhat slower pace than previous years. Some have said they also expect prices, which have been increasing in some neighborhoods, to head higher islandwide.
Inventory also is expected to remain near the lowest level in a decade, which should keep up pressure on prices.