By Will Hoover
Advertiser Staff Writer
Veteran studio musician Lyle Ritz played bass on some all-time pop classics, including "I've Got You Babe," "Good Vibrations" and "You've Lost That Lovin' Feeling."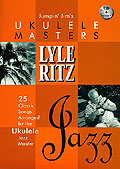 But more than four decades ago he realized something about a different stringed instrument that few folks outside Hawai'i fully understood: The ukulele is not a novelty toy.
Back in the '50s, when others were strumming "Five Feet Two, Eyes of Blue" at Mainland parties, Ritz was recording ukulele jazz albums for the Verve label. After a profession hiatus from the instrument, he returned to the ukulele in 1979 to perform "Tonight You Belong To Me" on the soundtrack for the movie "The Jerk."
In 1995, Ritz, who had moved to Hawai'i, released a CD titled "Time . . . Ukulele Jazz." Now he has released a ukulele song book and CD combo as part of the Jumpin' Jim's Ukulele Masters series ($24.95, Hal Leonard).
Ritz will perform ukulele jazz at 7 p.m. on Feb. 9 at the Ukulele House Stage in the Royal Hawaiian Shopping Center. He will play such songs as "I Only Have Eyes For You," "As Time Goes By," and many of the two dozen songs featured in the book and and on the CD.
"As far as I'm concerned, this is the best ukulele book I've seen," said Daniel Fujikake, musician and Ukulele House general manager. "The thing that sets this book apart is Lyle and his way of playing. These are all standard songs that everybody is familiar with, but his arrangements are so rich."
The book is intended for experienced players, and the songs are arranged for standard as well as tenor/baritone ukuleles. Still, because the songs are familiar and the arrangements easy to follow (half of them are performed on the CD), musicians at every level can appreciate the lessons.
Said Fujikake: "There's a wealth of knowledge here."