Advertiser Staff
WAIMEA, Hawai'i — More than 40 years after inventing the world's first heart pacemaker, Big Island philanthropist Earl Bakken has been named a co-winner of the Russ Prize in engineering.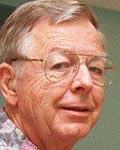 Earl Bakken said he will donate his $250,000 in prize money to a new scholarship fund for promising engineers in Hawai'i.

Advertiser library photo

Bakken will share the $500,000 prize, awarded for the first time yesterday, with Wilson Greatbatch of Akron, N.Y.

Bakken is credited with developing a transistorized, battery-powered pacemaker in 1957. The device, small enough for a patient to carry around, was connected to the heart with a wire through the skin. Three years later, Greatbatch developed a model that could be surgically implanted. He licensed his invention to Medtronics Inc., a company founded by Bakken.

Both men will accept the award from the National Academy of Engineering at a dinner Feb. 20 in Washington.

Bakken, a Waikoloa resident, said he plans to donate his $250,000 share to a new scholarship fund for promising engineers from Hawai'i.

After retiring to West Hawai'i, Bakken became involved in numerous philanthropic endeavors. Two years ago, he donated $3 million to help the North Hawai'i Medical Center in Waimea acquire an advanced magnetic resonance imaging device. He tried to keep the donation confidential, but his name was disclosed because of a government rule requiring the identity of the source of such donations.

Bakken also provided seven defibrillators for use at rural fire stations.

The award was established by Fritz Russ, an engineer whose inventions were used by the Air Force to measure the distance by which an aircraft gun misses its target and by NASA to monitor blood pressure in space.