By Brandon Masuoka
Advertiser Staff Writer
Honolulu police have cracked down on seat-belt and car-seat violations in an ongoing program they say is designed to save lives.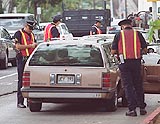 Honolulu police officers cited seat-belt violators yesterday at Punchbowl between South Beretania and King streets.

Bruce Asato • The Honolulu Advertiser

Since Jan. 2, police have issued 1,821 seat-belt and car-seat citations and 159 other citations, such as insurance and equipment violations.

In addition, police have arrested 12 people on various warrants and one person for suspicion of auto theft during the program.

Police have cracked down on seat-belt violators at 44 checkpoints around the island and yesterday issued 46 seat-belt and car-seat violations and nine other citations in front of the State Capitol on Punchbowl and Beretania streets, said Capt. Bryan Wauke of the Honolulu Police Department traffic division.

Last year, 36 people were killed in automobile crashes on O'ahu. Ten wore seatbelts and 26 did not, police said.

Under state law, anyone in the front seat and those under 18 years of age in the back seat need to wear a seat belt.

The penalty for each seat-belt violation is $67. That increases to $92 if the payment is late.

Also, the law states that children under 4 must be strapped into a child passenger safety seat.

First-time offenders must pay a fine up to $100, and the driver must pay an additional $57 to attend a four-hour safety class.