By Walter Wright
Advertiser Staff Writer
Hawai'i Air National Guard pilots and crews are helping speed relief to India by refueling Air Force relief cargo flights over the Pacific and Southeast Asia, officials said yesterday.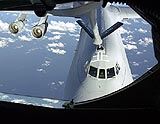 A tanker from the 203rd Air Refueling Squadron, Hawai'i Air National Guard, refuels an Air Force C-5 bound for India's Gujarat state with tons of relief supplies for earthquake survivors.

Hawai'i Air National Guard

KC-135 Stratotanker planes from the guard's 203rd Refueling Squadron refueled a second and third mercy flight over Hawai'i yesterday after refueling a C-5 Galaxy cargo plane the night before.

The fueling allowed the cargo craft to speed westward from Travis Air Force Base in California without a Hawai'i stop, en route to a touchdown on Guam and onward flight to India, Guard public affairs officer Charles Anthony said.

Another Hawai'i Guard Stratotanker which had been deployed to Thailand was acting as a second aerial filling station for the cargo flights as they approached India, Anthony said.

About a dozen Hawai'i air guardsmen were involved, including a crew of four from Hickam Air Force Base and another eight crew and maintenance people deployed to Thailand.

Equipment delivered in the first flight included a 2 1/2-ton truck, two 400-gallon water trailers and two rough-terrain forklifts.

The Air Force also is delivering large tents and about 10,000 blankets and 1,500 sleeping bags to Gujarat state, part of which was devastated by a 7.7 magnitude quake a week ago. (The figure has been revised downward from 7.9.)

Indian authorities have unearthed more than 10,000 bodies. The final toll could be more than 35,000 deaths.