By Michael Tsai
Advertiser Staff Writer
The last time the Kansas City Chiefs made the playoffs, Tony Gonzalez was a rookie and Al Saunders was the team's assistant head coach.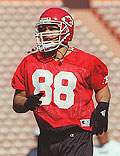 Kansas City Chiefs' Tony Gonzalez led all tight ends this season with 1,203 receiving yards and nine TDs.

Bruce Asato • The Honolulu Advertiser

Saunders left the next season to serve as Dick Vermeil's receivers coach in St. Louis and Gonzalez, despite his team's mediocre 23-25 record the last three years, emerged as arguably the best tight end in the NFL.

Now, with Saunders back in Kansas City as offensive coordinator under newly hired head coach Vermeil, Gonzalez says he and his fellow Chiefs are ready to make a run at the Super Bowl.

"I just hope (Saunders) didn't get too used to that St. Louis Ram offense with all those receivers running around," he said. "I hope he still thinks about the tight ends a little bit."

And well he should. Gonzalez, in Hawai'i for his second consecutive Pro Bowl, was the league's most prolific tight end this season, leading the position in yards (1,203) and touchdowns (9). His 93 catches stands as the NFL's third highest single-season total for a tight end.

But those individual accomplishments didn't mean much to Gonzalez as he spent Super Bowl Sunday this year half-watching, half-snoozing through Baltimore's dismantling of the New York Giants.

Today's events
9 a.m.-AFC at JW Marriott Ihilani
9 a.m.-NFC at Aloha Stadium
11 a.m.-NFL Alumni Legends Beach Ball, Fort DeRussy
Noon-10 p.m.-TOPPS NFL Experience at Aloha Stadium
7 p.m.-10 p.m.-Pro Bowl Friday Night Experience TOPPS NFL Experience at Aloha Stadium

"It was fun for maybe 36 seconds," Gonzalez said. "But you can't help but think about your team in that position. The only reason I play is to have a chance to make it to the Super Bowl and win."

Gonzalez said he's excited by the prospect of playing for Vermeil, architect of the Ram's 2000 championship.

"From what I saw, he had a real disciplined team and they seemed to have fun out there," Gonzalez said. "That's how you get up for it as a player: Get out there, have fun and win. We have an opportunity to get some change going and hopefully get to the Super Bowl."

Vermeil and Saunders have already announced their intention to bring an aggressive, balanced offense to Kansas City, one that will likely play to the talents of Gonzalez and wide receiver Derrick Alexander. The two combined for 12 100-yard games last year, making them the second most effective teammate combination behind Randy Moss and Cris Carter (14).

It was Gonzalez and Alexander who helped derail the St. Louis juggernaut this season as Kansas City shocked the then-undefeated Rams with a 54-34 thrashing at Arrowhead Stadium on Oct. 22.

1,500 tickets left

Advertiser Staff

Approximately 1,500 tickets remain for Sunday's Pro Bowl. The game must be sold out by 12:30 p.m. today to avert a TV blackout.

Tickets may be purchased at the Aloha Stadium box office from 9 a.m. to 5 p.m.

"That was probably the highlight of our season," Gonzalez said.

It remains to be seen how the Chiefs' new offense will impact Gonzalez's chances for the elusive 100-reception season. Gonzalez, for one, isn't concerned.

"I think I can get that (100 receptions) every single year," he said. "Put it this way: If they want me to get it, I can get it. That's how it is in any offense you're in. If the team wants you to get the ball, they can design plays for you.

"My main goal is to go to the playoffs and win the Super Bowl. I'll think about personal stuff after that."
EXTRA POINTS: Baltimore Raven Ray Lewis spent much of yesterday's low-key, 45-minute practice at Aloha Stadium flanked by a pair of Woodsons: teammate Rod and Oakland Raider cornerback Charles, who took every opportunity to trash talk the Super Bowl MVP. "Hey," Charles shouted after Lewis knocked down a Rich Gannon pass. "Try catching one of those sometime." Responded Lewis: "Don't even start. I did all my talking during the season. I ain't saying no more."