By Dayton Morinaga
Advertiser Staff
Who let the . . . 'Bows out?
In a stunning victory, the Hawai'i men's basketball team caged the Fresno State Bulldogs, 91-73, last night at the Stan Sheriff Center.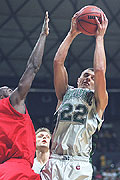 Nerijus Puida grabbs one of his 10 rebounds. He also had 7 points and 11 assists.

Cory Lum • The Honolulu Advertiser

A crowd of 4,126 watched Hawai'i defeat a nationally ranked team for the first time since its victory over Kansas during the 1997 Rainbow Classic. Fresno State entered last night's game ranked No. 19 with a 13-game winning streak, which was the second-longest in NCAA Division I.

Not any more.

"I didn't think we could beat them by 18 points," forward Nerijus Puida said amid a jubilant celebration in the UH locker room, "but I was thinking we could win this game."

To be sure, the Rainbows led from start to finish, and surprisingly dominated the Bulldogs with a disciplined offense, uncanny 3-point shooting, and determined rebounding.

"We needed a good win at home," Hawai'i coach Riley Wallace said. "But you have to play that way every night in this league to win."

Fresno State learned that the hard way. Prior to last night, the Bulldogs were undefeated in the Western Athletic Conference, and in their last game, defeated Texas-El Paso by a conference-record 52 points. They are now 17-3 overall after suffering their worst WAC defeat in over two seasons. However, they remain atop the conference standings at 6-1.

Hawai'i, which was coming off a pair of WAC losses on the road, improved to 9-10 and 3-5.

"We just got our butts kicked every way you can imagine," Fresno State coach Jerry Tarkanian said. "They out-hustled us, they out-rebounded us, they out-shot us."

In the unlikeliest of victories, the unlikeliest of heroes emerged for the Rainbows. Mindaugas Burneika, a 6-foot-7 forward, came off the bench to score a career-high 27 points and grab seven rebounds.

As Tarkanian put it: "That Burneika guy came in and didn't miss anything. He killed us."

The junior from Lithuania shot 9-of-12 from the field, including all three of his 3-point shots. He entered last night's game averaging 6.9 points and 2.7 rebounds per game.

And when it wasn't Burneika, it was some other Rainbow. As he put it, "everybody played a great game."

Among the others:
Predrag Savovic scored 26 points, including 5-of-6 shooting from 3-point range. Led by Savovic, the Rainbows converted 10 of their 14 3-point shots.
"Big-time 3-point shooting," Wallace said. "And none of them were really tough shots. We moved (the basketball) and made the extra pass and hit some open shots."
Nerijus Puida was the main passer and rebounder, finishing with a game-high 11 assists and 10 rebounds. He scored seven points, three shy of a historic triple-double.
"I told Coach Wallace I wanted to try a cheap 3-pointer at the very end, but I didn't get a chance," Puida said. "But that's fine. I feel much better with assists and rebounds than points."
Led by Puida, 25 of Hawai'i's 34 field goals were assisted. The Rainbows also out-rebounded the Bulldogs, 42-30.
Like the statistics, the game was not that close. The Rainbows opened the game with a 7-0 run and never relented. Due mainly to 14 first-half turnovers by the Bulldogs, Hawai'i kept the lead in double-digits for most of the first half.
Burneika, who scored 14 points in the first half, hit a 3-pointer with 3:04 remaining in the half to give UH a 38-20 advantage. Even after Fresno State's Tito Maddox scored the final five points of the half, Hawai'i maintained a 43-32 lead at halftime.
The Bulldogs cut the Hawai'i lead to 45-36 moments into the second half, but that was as close as it would get. Savovic scored six points during a 14-0 run that gave the Rainbows a commanding 59-36 advantage. Fresno State never got closer than 10 in the final seven minutes.
Maddox led the Bulldogs with 20 points, seven assists and six rebounds, although he committed seven of the Bulldogs' 18 turnovers. Melvin Ely added 15 points and six rebounds.