By Kyle Sakamoto
Advertiser Staff Writer
Right-hander Shannon Tabion pitched a one-hitter with 13 strikeouts as No. 3 Baldwin defeated Pearl City, 2-0, yesterday in a quarterfinal game of the Chevron State High School Softball Championship at Rainbow Wahine Stadium.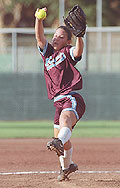 Baldwin's Shannon Tabion credited her performance to her defense and her breaking pitches. She threw 88 pitches, 55 for strikes.

Cory Lum • The Honolulu Advertiser

Tabion outdueled Loihi McKeague, who pitched a five-hitter with three strikeouts.

The lone hit off Tabion was a high-chop single to third by Kellie Nishikida with one out in the fourth.

"She held us to one hit and that speaks for itself right there," said Pearl City coach Cheyene Thompson. "She has a very unhittable ball. She was moving it in and out on us and that threw us off completely."

Tabion, who struck out the side in the third and fifth, threw 88 pitches (55 strikes). She walked two.

"My defense makes me confident when I pitch," Tabion said. "My rise wasn't working too good and my drop, (too). My curve and screw(ball) were working."

The Bears scored both runs in the sixth inning. Alena Matsui hit a one-out single to center. She advanced to second on a wild pitch, and reached third on a passed ball. She scored when the shortstop booted a ground ball by Leslie Eldredge.

Eldredge advanced to third on an error on the first baseman, who missed a pick-off attempt by the catcher. Zoie Sevilla singled off the second baseman to drive in Eldredge.

"We try to put a lot of pressure on the defense as much as possible," said Baldwin coach Ryan Souza. "Sometimes it works; sometimes it doesn't. Today, fortunately, it went our way."

McKeague allowed two hits and one walk over the first three innings, but all the runners were caught stealing by catcher Ashley Pagatpatan.
Kamehameha 11, Hilo 0: Leo Sing Chow and Sharee Fonoti combined on a six-inning one-hitter as Kamehameha defeated fourth-seeded Hilo.
The no-hitter was broken up with two outs in the sixth on a bloop triple by Mary Clair Highfield off Fonoti.
Sing Chow pitched three perfect innings with six strikeouts. She struck out the side in the third.Fonoti walked one and struck out two over the final three innings.
"They looked good today, and that's good to know," Kamehameha coach Ty Sing Chow said.
Hilo, meanwhile, committed nine errors.
'Iolani 8, Kaimuki 1: Ianeta Lei gave up an unearned run and four hits over five innings, and batted 2-for-3 with a double and three RBIs to carry No. 2 'Iolani.
The Raiders scored two runs in the first inning on three hits and a walk, then sent 10 batters to the plate in a five-run second inning with five hits, a walk and an error. Lei had a two-run double to right-center in the inning.
"Offensively, we put the ball in play and with that I am pleased," said 'Iolani coach Chris Shimabukuro. "We jumped out to an early lead and didn't score after that."
Kaimuki stranded seven runners, including five in scoring position, over the first three innings. The Bulldogs had four hits and 'Iolani committed five errors in that span.
"I thought we played a very sloppy game," Shimabukuro said. "We committed seven errors, which is the most I can remember in a long time. I'm sure if we play like this tomorrow, we'll lose."
Said Kaimuki coach Lene Tausaga: "Our girls were trying too hard today. They hung in there, but we came up short."
'Iolani pinch runner Ashley Elliazar was down for 20 minutes and eventually taken off the field on a golf cart after colliding with shortstop Tyleen Tausaga on a steal attempt in the fourth inning.
Shimabukuro said Elliazar jammed her hip.
BASKETBALL
Kalaheo wins: Skyler Wilson scored 17 points and D.C. Daniels added 15 as Kalaheo defeated Moanalua, 79-58, Wednesday night and won the Oahu Interscholastic Association Eastern Division boys basketball title at Kalaheo gym.
Daniels scored eight points in the first quarter as the Mustangs (9-0) took a 17-5 lead. Wilson scored eight in the second quarter as Kalaheo led 32-16 at halftime.
Kalaheo won its seventh East title in eight years and has won 97 out of its last 99 games since 1991 under coach Pete Smith.
The Menehune, playing in their first season in the Eastern Division, is 4-5.
Chris Young and David Kilborn each scored 12 points for Moanalua.
MOANALUA (4-5) 5 11 20 22—58
KALAHEO (9-0) 17 15 23 24—79
MOANALUA-Aaron Fujino 4, John Simbahon 0, Joey Sierra 9, Teruo Nagasako 3, Brent Stone 2, Ric Fukushima 8, Chris Young 12, David Kilborn 12, Nickolas Slate 8.
KALAHEO-C.J. Kaimiola 9, Skyler Wilson 17, Mike Lefevre 2, James Robertson 4, Shaydon Marumoto 0, Ikaika Alama-Francis 5, Shane Harada 3, Charles Elliot 6, Aubrey Bradley 4, Justin Pedrina 6, D.C. Daniels 15, Keoki Duarte 4, Mike Garcia 0, Remington Chun 4.
3-point goals: Moanalua 2 (Sierra, Fukushima). Kalaheo 4 (Kaimiola 1, Alama-Francis 1, Elliot 2).
JV-Kalaheo 42, Moanalua 32.
Kalani 51, Kaiser 46: Justin Numazu scored 15 points and Hunter Lewis added 14 as visiting Kalani won its first game of the season over winless Kaiser.
Kaiser's Jordan Kreutz led all scorers with 18 points.
KAISER (0-9) 15 15 7 9—46
KALANI (1-8) 7 8 22 14—51
KAISER-John Hahn 0, Chris Watson 4, Noah Amerson 6, Jason Peters 8, Nate Ushio 0, Garret Wong 0, Tyler Fujie 7, Eric Chang 3, B.J. Bernard , Nathan Gano 0, William Larsen 0, Adam Wickern 0, Jeremy Yim 0, Jordan Kreutz 18.
KALANI-Justin Numazu 15, Yorke Ashiba 0, Kekoa Tam 2, Brandon Mikami 0, Kevin Nakamura 0, Hunter Lewis 14, Robert D'Amato 2, Russell Dement 4, Chad Nakamoto 4, Matt Young 0, Alex Utoafili 0, Michael McQuay 10.
3-point goals: Kaiser none. Kalani 3 (Numazu 2, Lewis 1).
JV-Kaiser 71, Kalani 56.
Mililani 52, Wai'anae 35: William Broadus scored 15 points and Trey Brown added 11 as the Trojans routed the host Seariders.
Calvin Brown lead Wai'anae with 14 points.
'Aiea 63, Campbell 57: Na Ali'i outscored the Sabers 6-0 in the second overtime to win the OIA West game at Campbell.
Wes Williams scored on a field goal, and Chris Antonio sank three free throws and Aaron Powell one for 'Aiea in the second overtime.
Campbell's Randy Saramosing led all scorers with 22 points.