By John Duchemin
Advertiser Staff Writer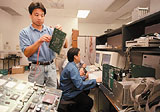 Adtech employees work on test modules. Adtech is one of the state's largest high-tech employers with more than 300 workers.

Advertiser library photo • Jan. 10, 2000

For years, New Economy proponents in Hawai'i have prophesied that the high-tech sector will become the state's marquee industry, lifting the economy to new heights while shielding residents from the fickle trends of tourism.

The prediction has not yet become reality, but progress has been made. Last year, technology companies added hundreds of jobs to Hawai'i's labor force, helping to drive unemployment below the national average. Honolulu-based companies received millions of dollars from venture capitalists. Dozens of other entrepreneurs started businesses, landed contracts or announced new patents.

And 2001 should be another year of high-tech growth, according to experts from Hawai'i's government, schools and tech companies. They predict hundreds more new jobs, millions more in investments, and patentable advances in fields including Internet commerce, medicine, optics, military contracting, meteorology, marine science, advanced aquaculture, software development, wireless communications and network testing.

"Right now we're on the cusp of having a critical mass of high-tech activity," said Tareq Hoque, president of Adtech Inc., one of the state's largest high-tech employers with more than 300 workers. "Right now, we're seeing start-ups, growth and a general focus on technology like we've never seen before. The change in mentality is very encouraging."

Still, these stirrings are like the kickings of a baby in the womb. Jobs in the high-tech sector make up only 3 percent of Hawai'i's workforce, according to Seiji F. Naya, director of the state Department of Business, Economic Development and Tourism.

"Even with a doubling of this activity, high technology firms will remain a modest proportion of our total economy for the foreseeable future," Naya said in testimony before the Legislature in January.

And labor pains await. Observers say the state, despite some significant advantages, still has many problems that impede its high-tech growth, including shortages in qualified workers and financial capital; an inadequate network of support organizations and high-tech business experts; an overburdened education system; and, some say, a persistent reputation as a poor place for business.

Also, a harsh capital environment, the product of last year's dot-com and stock market disasters, has made fund raising tough for many brain-rich but cash-poor Hawai'i start-ups.

Overall, however, it's become clear that Hawai'i holds promise, experts say. As the islands awaken to their potential role in the New Economy, the words "Hawai'i" and "technology" suddenly don't seem strange in the same sentence, said Debra Guerin, managing director for Invencor, a California venture capital firm that has several investments in Hawai'i.

"Last fall, when I told a rental-car bus driver that I was in Hawai'i looking for opportunities in the technology industry, he told me, 'Oh, I've heard of that, that's some pretty cool stuff,'" Guerin said. "A few years back, he'd have looked at me like I was crazy."

Labor shortage

Few observers say Hawai'i's technology development challenges are insurmountable - and most say the state appears on its way to addressing many of its problems.

This is evident in companies' attempts to deal with a labor shortage, said Nola Miyasaki, executive director of the state-run High Technology Development Corp. Hawai'i's unemployment rate in December dropped to 3.6 percent, below the national average. Meanwhile, Hawai'i companies added 9,200 jobs in the space of a year.

Competition for available workers has put heavy pressure on many expanding tech firms. Some CEOs say they have maxed out local schools' ability to provide new workers. But many are solving the problem by aggressively recruiting kama'aina back from the Mainland with competitive salary and benefit packages. To further that goal, the state and a loose group of tech companies have partnered on two job fairs, one in San Jose and one in Honolulu, that together drew more than 1,000 Hawai'i school alumni.

Several local companies have said they found qualified people to fill key holes, Miyasaki said. The events were successful enough that a series of five job fairs is planned for California and Arizona this March.

A worker shortage, however, is not the only industrywide problem in Hawai'i's technology sector. Companies are also unified in their thirst for financial capital.

Venture capital investments in Hawai'i companies have multiplied in the past several years, topping $150 million in total commitments last year, according to the Hawai'i Strategic Development Corp., the state's venture investment vehicle. While far better than previous years, that still represents slightly more than $25 million available for new investments each year - a far cry from other would-be technology strongholds, including San Diego or Austin, Texas, where hundreds of millions of dollars have been available each quarter.

Many local companies are constrained by their inability to get capital locally, said Marc Rapoza, president of Inovaware, a 5-year-old business-services software company in the Manoa Innovation Center that seeks about $10 million to fund an international expansion.

"If you go talk to a venture capitalist on the Mainland, you'll often be talking to someone with a multibillion-dollar budget," Rapoza said. "If there's anyone here who can readily invest more than $20 million, I'd like to know. None of the local VCs can bring in the type of money we need."

Even with local venture money, Hawai'i companies seeking further venture funding will still face a tough investment market in 2001, courtesy of a volatile stock market and dot-com fallout, said Kirk Westbrook, a managing partner at Invencor.

"Capital markets are very, very, very tight right now, so funding for new ideas is going to be very difficult to come by," Westbrook said. "The technology is still being created, but people will be more challenged to raise money in 2001."

Still, local venture funding should continue to expand in 2001, Westbrook and several other venture capitalists said. HMS Hawai'i Management Partners, a Honolulu venture firm that has invested in several local start-up companies, is raising a fund that, with leverage from a federal loan program, could bring as much as $180 million to bear on the local market in 2001 or 2002. Also, a group of venture investors in Austin has started a $5 million seed fund for Hawai'i start-up companies.

Tourism image

But capital investment will further improve only if Hawai'i bolsters its reputation as a technology-friendly state, several observers said. Despite years of low-level marketing efforts, Hawai'i has yet to completely banish the misconception that no serious work is done here, say many industry advocates, including Gov. Ben Cayetano.

That misconception caused by several factors, experts say. Decades of tourism marketing give most people an image of Hawai'i as fun, sun and not much else; meanwhile, the marketing budget for the High Technology Development Corp. was pared back in the 1990s, restricting that group's ability to help attract investment, Miyasaki said.

Also, Hawai'i has failed to attract a major world-class technology corporation - something that would be a significant catalyst, bringing satellite companies to the state much like a Nordstrom or Neiman Marcus can attract smaller retailers to a shopping mall.

"Until we get at least one flagship company - someone who employs 5,000 or 10,000 people - we're always going to be a small industry," said Rapoza of Inovaware. "Right now, there's no tech company that can truly impact the entire economy. If one of the state's larger companies were to lay off 500 or 600 people - those layoffs would be larger than the biggest tech company here. Until we get someone here on that scale, people won't really start respecting us."

Others say, however, that Hawai'i's reputation is slowly changing, thanks largely to the success of several local companies.

"Do we need a big anchor to come in? Probably not," said Alan Teramura, vice president of research at University of Hawai'i. "I believe we can grow our own right here."

Teramura and others highlight several companies:
Adtech Inc., a 23-year-old Hawai'i firm in Kaimuki that has become the world market leader in several niches of the high-speed network testing field. Now the largest division of multinational company Spirent Communications, Adtech's annual revenues have grown from about $40 million in 1998 to above $160 million in 2000.
Pihana Pacific, a company founded by kama'aina Silicon Valley veteran Lambert Onuma. Pihana last year landed more than $240 million in venture funds to build a network of Internet data centers in Pacific Rim nations, and now employs approximately 100 people in Honolulu.
Trex Enterprises, a San Diego-based company with operations on Maui and Kaua'i. After years of developing digital sensors, advanced materials and optical systems with the military, Trex has expanded its Hawai'i operations from 5 employees in 1998 to 32 in 2001. Trex now plans to create several commercial companies in Hawai'i based on its technology, said operations manager Allen M. Hunter II.
Several optical imaging companies, which are developing technology with a broad range of military, scientific and commercial uses. Among them are Science & Technology International (STI), another homegrown company in downtown Honolulu, with an engineering workforce that now tops 100 and is adding an employee a week; and Innovative Technical Solutions, an STI spinoff.
Such enterprises are helping build a base of employees, employers, intellectual property and investment capital, all of which should help spawn further innovations and start-up companies, Teramura said.
Lacking attributes
To thrive, however, new companies need the right resources. And while Hawai'i's natural resources have proven fertile grounds for innovation - for example, the Mauna Kea observatories and the University of Hawai'i's marine sciences division - the state lacks other important attributes, experts say.
Hawai'i doesn't yet have enough executive types - patent attorneys, accountants and seasoned corporate officers - with the high-tech experience to translate innovations into commercial success, Miyasaki said.
"In Silicon Valley, there's lots of lawyers, CPAs and business consultants that know technology," she said. "That's what Hawai'i lacks and needs to develop. There are start-ups here with really good technology, but if they don't know the business side, they'll miss the boat."
Still, the state's human infrastructure, like other key areas, is getting better, Miyasaki and others said. A recent influx of West Coast wealth and homebuyers has brought with it some friendly attention from Silicon Valley veterans - including John Dean, president of Silicon Valley Bank and part-time Hawai'i resident, and venture capitalist Barry Weinman, who with wife Virginia in June 2000 donated $1.1 million to the University of Hawai'i to create a center for entrepreneurship and e-business.
As more Mainland technology veterans arrive, they will likely form their own companies here, or at least be recruited as angel investors or advisers for local companies, Teramura said.
"Some of these folks are young people, in their 20s and totally retired, but far too active to stay home and read," he said. "I think we can really capitalize on their business connections and expertise."
Entrepreneurs and government officials have also formed several groups to help build a support network for growing tech companies. The groups include formal organizations like the Hawai'i Technology Trade Association, which now has more than 350 members, and the decidedly informal E-list, a social networking club that has drawn dozens of would-be techies to events like a January haircutting party at Chop Salon.
The last year alone saw the creation of the E-list; the Hawai'i Health Sciences Incubator, a for-profit branch of HMSA designed to create new health-care companies; and HiBeam, a University of Hawai'i-affiliated network of attorneys and other professionals willing to coach start-ups on business techniques. And in 1999, University of Hawai'i started UH Connections, an organization that joins professors with entrepreneurs to help commercialize UH research.
Meanwhile, the state's high-technology incubator in Manoa is about to undergo a revamp, Miyasaki said. The Manoa Innovation Center, home of 25 companies including Inovaware and Kamakura, has been too much a landlord, too little a growth catalyst, Miyasaki said.
But the incubator will soon take a more active role in helping tenants develop business plans, connect with experts and ultimately "graduate" to outside facilities, clearing room for new start-ups in the full-to-the-gills center. Such changes, Miyasaki said, will help Hawai'i tech companies improve their sophistication and solidify their business models.
As the state's technology organizations have evolved, Hawai'i companies have noticeably improved, Invencor's Westbrook said.
"The quality of business plans we've been seeing from the islands has certainly gotten better from where it was a couple years ago," he said.
Jumping ship
These infrastructure improvements may make life easier for startup companies, but the state also needs to figure out how to keep successful companies from jumping ship. Hawai'i's two most-famous technology start-up successes from the 1990s - VeriFone and Digital Island - both left the state to be closer to their core markets.
The technology community hopes Adtech won't become another example. With its 330 employees crammed into four small buildings in Kaimuki, Adtech has had to call a halt to hiring engineers until it can find more space.
The company has opened formal negotiations to lease a plot of state-owned land in Kaka'ako, which Hoque hopes will eventually house a 250,000-square-foot company headquarters - enough capacity, he said, for hundreds more workers and about 10 years' worth of growth.
Other companies are also in need of new locations - and several have said they would look elsewhere if they can't find a good deal, both in rent and other incentives, most likely government-sponsored.
STI outgrew its Grosvenor Center penthouse office and has expanded to another downtown building - but may soon outgrow that, according to company president and CEO Nick Susner.
Pihana Pacific has already split up its headquarters operations. The company, which has an Asian headquarters in Hong Kong, has kept many of its corporate functions in Honolulu. But it scrapped plans to base its worldwide network operations center here after Singapore lured the company with an 11-year tax holiday and other benefits.
"If there are incentives like that here, I sure don't know about them," said Richard Kalbrener, Pihana's president and CEO. The network operations center would have meant 60 high-level programming jobs for Hawai'i, Kalbrener said.
Tax incentives do exist for technology companies in Hawai'i. In 1999, the state passed the first of two years of tax incentives designed to attract technology investments and start-ups. A third round of incentives, again sponsored by Cayetano, was proposed to the Legislature in January.
Observers say the tax incentives, which include credits for technology investments, exemptions on employee stock options and the ability to sell capital loss to other companies, are top-notch, matching up with the best plans offered by other states. But those incentives do little for companies already established in Hawai'i, Kalbrener said.
"The state has done a lot to help companies that are moving here, but if you're already here, there's not much being done," Kalbrener said. "They'll work hard to get you, but once they have you, you're on your own."
Inovaware also sees a possible relocation in its future. While the company's main programmers, who number several dozen, may stay in Hawai'i, Inovaware's sales offices have already migrated to regional offices. Other administrative functions may move in the next few years, Rapoza says.
"Relocating is a definite possibility," Rapoza said. "If someone came up to us and said, 'Here's a bunch of money, and here's where you need to be to get it,' it's highly probable we'd take them up on it."
Schools a drawback
Meanwhile, Hawai'i's public education system, which has ranked poorly versus other state systems, has also been a drawback to the technology industry, despite the system's efforts to improve.
On the good side, UH has become more innovative in recent years, said Richard Lim, president of City Bank, a local bank that is trying to position itself as the primary local resource for tech companies. Lim predicted a "breakthrough year" for UH this year, and said a major groundbreaking advance may come out of university biomedical research in 2001.
Among key recent developments at UH, Lim said, are the new Marine Bioproducts Engineering Center, which has about a half-dozen partners and an increased budget; the medical school's plans to hire new faculty and build a research center in Kaka'ako; and the opening last year of the Yanagimachi Institute for Biogenesis Research. The university has also started a center for online entrepreneurship through its business school.
The University of Hawai'i has tried to reorganize itself as a tech-friendly research center, but many technology leaders said K-12 public education is so poor that it may offset UH's progress.
"Simply put, there's no way to get around it," UH's Teramura said. "If we're bringing in highly skilled people, they will want for them and their children to have a good school system. They'll demand that - and we'll have to address it. And as more people come here, it will generally become evident that education is one of our real hindrances."
Trex, for instance, has discovered that some Mainland residents - even kama'aina - with children are hesitant to move to Maui regardless of career opportunities, Hunter said.
"Tech people are educated people, and if they can't find first-rate education for their children, they're liable to move somewhere else," he said. "That's one of the biggest limitations we've found in repatriating people."
But even so, Hunter praised Hawai'i as a place for business.
"Working in Hawai'i fits well with the general trends in the United States - movement away from urban centers as we improve electrical communications," he said.