Lois-Ann Yamanaka is arguably the Islands' best-known contemporary writer; her sixth book, "Father of the Four Passages" (Farrar, Straus and Giroux, $24), released two weeks ago, hit local best-seller lists its first week.

Just before Yamanaka set off on a nationwide book tour, Advertiser staff writer Mary Kaye Ritz sat down with the writer for a wide-ranging conversation that spanned topics as universal as religion, and as personal as Yamanaka's son, JohnJohn, who has been diagnosed as autistic.
Here are some excerpts from that two-hour conversation: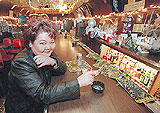 Author Lois-Ann Yamanaka relaxes at the Smith Union Bar on Hotel Street. Yamanaka recently released her sixth book, "Father of the Four Passages." The book, which hit the local best-seller lists its first week, was the most challenging one for her to write, she said.

Gregory Yamamoto • The Honolulu Advertiser

Q. "Father of the Four Passages" is your sixth book, after "Saturday Night at the Pahala Theatre," the Hilo trilogy ("Wild Meat and the Bully Burgers," "Blu's Hanging," "Heads by Harry") and the young adult novel, "Name Me Nobody." How would you describe this book?

A.This was probably the hardest book to write, but in many ways, that was the challenge, to push myself and push the limits of what I want to do as a writer and the limits of what I want to tell.

Q. What are the "four passages" of the title?

A. What I want the readers to come away with is their own idea of what the four passages might be. It's a multilayered book, with many ways to define the four passages. That's why I like Cora Yee's cover. Music is a passage. Walking around a road is a passage. I tried to play with that meaning for the title.

Q. How has your life changed since "Saturday Night at the Pahala Theatre"?

A. It has been incredible. Shortly after "Saturday Night," I was able to take some time off (she was granted a National Endowment for the Arts fellowship); shortly after that, I had a sabbatical; shortly after that, I sold my first book. I did a whole career change. Also, my son was diagnosed with autism at that same time.

That's a miracle. When he was diagnosed, my life was forced to change, but it was forced to change anyway. That's God's grace, because I didn't have to choose; the choice was already made. I had to stay home. My life as a teacher was going to be over. Doing the work I'm doing now, I'm available for emergencies, or therapies, or for special visits to the doctor. It has allowed me to be flexible with my time. I wouldn't have done this otherwise. I play life too safe.

Q. Which period between books was the hardest?

A. They were all hard. If I write a really difficult book — and "Saturday Night" was a hard book to write — I let myself off the hook a little. I'll do a book that lets me laugh, lets me cry. There's a breathing space between projects. I'll try to alternate, so I don't get so heavy on myself, on the work, on my outlook. But ... (laugh).

I'm writing my next book, which is a real difficult book to write. So I'm going back to back. But I hadn't planned it that way. I planned another book in between, but it didn't want to be written now, so I took on the project that was supposed to come after ... This is (a) hard transition, because I haven't cleaned out my spirit from "Father of the Four Passages" yet. There are remnants of the book that I'm still living with, dealing with, that I haven't purged yet.

Q. Which of your books can you re-read as a reader?

A. That's an interesting question. I don't like to read any of them. I was just thinking about this the other day. I never read anything that I've already published. The book that I find myself enjoying to read, when I do public performances, it's like candy bars — you know, enjoying the moment — is the poems in "Saturday Night," and the Oompa Loompa bad hair segment of "Wild Meat." I don't go back and read anything in whole again.

Q. A wise woman said there are no non-gifts. Have you found any gifts in the wake of the "Blu's Hanging" controversy, in which you were charged with racism for the depiction of a Filipino character, raising the issue of political correctness vs. fictional freedom?

A. I learned a lot of lessons, and they were good lessons for me. When you're going through something trying, you don't see the light. It taught me, as my Grandma said, (she's so eloquent, yeah?, when she counsels me) that at the end of the valley of darkness, there's a promise of light, always. In your subconscious, you know that. You go through a cycle since the day you landed here, but it became so real to me, to wait for the light, to watch for the light. I started to really find the joy in the day. I had all kinds of important lessons after that, about fear, about people, about my own writing, about how I want to challenge myself, about how I'm going to handle criticism. All kinds of really good things, after. After. (Laugh.)

Q. If Uncle Paulo was here, what would you say to him.

A. I'd say, I'd like to buy him a beer. I don't think he would be mad, or upset at me. He'd have a beer, shake it off, laugh, talk about other things. (Laugh.)

Q. In "Four Passages," pidgin no stay. Are you getting any backlash from those who have tried to make you, as you've called it, the "pidgin poster child"?

A. Language is so, so wild. It's bombarding, out there. Everything that I do, I'm about, the ways that I "language" in this world ... pidgin is one way. I guess my fear is that people will say, "Oh, she sold out." "This is a desire to be mainstream," "This is a desire to have a wider audience." It's really not. Because I did the Hilo trilogy, I did "Saturday Night." I did "Name Me Nobody." I've always wanted to express myself poetically. I would never be able to do that in a volume of poetry, but I can use this language in prose.

A lot of the text of "Four Passages" is internalized, so the question is, why isn't my internal dialogue in pidgin? I don't know. That was a real good question, because if I live and breathe it, every day, in family and friends, why isn't it a part of the internal structure? I don't know.

Q. Early local literature was a lot about the past, about exorcising anger and tipping over the plantation mentality, defending the local folk ways and language. It seems as though there's a maturing taking place, a new generation, more work being set in present time. Talk about that.

A. It's a natural progression. For myself, when I write, I need maybe a 15-year emotional distance from a time, from a place. That 15 years offers perspective. I thought I was nuts, until Maxine Hong Kingston said, "Oh, I need 20!"

What happens, organically, in the writing process, what you write about as a 27-year-old, you subtract the 15 (year distance) and you're 12. Then you can see it clearly, see it whole. You don't have that kind of perspective if you write in the present time. Writers are anecdotal; they can write a poem when they get off the bus about somebody they saw, somebody who touched them. I just think they're so magical; I don't know how people can do that. They must be brilliant, to understand the psychology of the moment, and their own psychology, their own feelings.

This project is so close to me, emotionally. That caused me some difficulty. I didn't have that 15-year buffer. I wrote about things very present, very now. But that's where I needed to be, because that's where my writing brought me and I just followed.

Because of that closeness, that immediacy and in-my-face with what I was writing about, my next book is a historical novel. I just took myself totally out, out of the whole picture, things that are so far away. (It's set in turn-of-the 20th-century Hawai'i.)

Q. You and I have talked about dark places. Which recesses of the human psyche did you dive into, to research this book?

A. This book was an act of flirting in darkness. I think I went into such a dark place in myself, and I really spent a lot of time there, exploring every nook and cranny of those dark places that scared the -- outta me. It's not just visiting, it's spending a lot of time there. With the book in print, I've not been able to let it go as easily. The manuscript is done, I sent it out the door, and then my editor has it. Then it becomes a whole different process for me — it's editing, it's rewriting, it's copyright. With this book, there's so many things lingering, because I don't think I answered all the questions. Maybe it's a good thing.

To truly understand light, you've got to truly understand dark and to love the light is to know the dark. The contrast provides the answer.

I also learned the dark and the light are places of great function. People like to use the word "dysfunction" with my characters. To be in this kind of darkness is to be totally functional. There's only a small gray area in our lives that's dysfunctional. If you're in the light, you wake up the next day, and you're functioning. There's a reason. When you're in the darkness, there's a purpose, there's a purpose and you move forward according to that. You woke up. You made it through the day. In terms of addictions, it's a way of functioning. You did what you had to do to get you through the night. I found that to be very interesting. I never saw the world that way before. It was frightening — spiritually frightening, emotionally frightening.

Q. In what way?

A. I think I put myself in harm's way. I was where I had to be, but wow. I had to be in Chinatown, sitting there at 10 o'clock in the morning, getting -- faced drunk. This was the one journey that I took that my friends really had to help me back, pull me out of the darkness. It was so enticing. It's a different kind of allure from the warmth of the light, but it tastes and smells similar. I'm glad that I came back, semi-whole.

Q. There's a strong undercurrent of spirituality in your work.

A. This is really complicated to me. We were raised Southern Baptist. If there wasn't a Southern Baptist church, we'd go to a Methodist. My mother was very open. I had a friend who was Catholic, and I went to the Catholic church in the third grade. She just wanted me to go, to experience and to know God. My mother loves God and my grandmother loves God. From a very young age, I understood gifts. I understood God and what it was to be called. My grandmother is a real big influence. I'm always striving to understand God and to understand why things happen, in terms of my relationship with God.

My son came onto my spiritual path in my 30s and I fell apart. I just thought, life is so hard.

This comes along, my whole understanding of the grace and benevolence of God, was shattered. "How could this happen to me?" I started to blame God. I went through denial, anger, everything with God. What I've come to understand is that my son is a miracle.

The book is not a reflection of this miraculous mother who transforms this autistic voice. It's about small joys and big hardships and it's not whining. I can be a victim of this life or I can be the hero of my story. We are not victims to this life.

I go through this litany in the book, I blame God, I blame Reaganomics, I blame Prozac, Smirnoff, too many ethnic-female-novels-with-dysfunction, blue-collar upbringing, the whole nine yards. If you wake up tomorrow and you're the hero of your life, you made God happy.

Q. Talk about being the mother of a child deemed different from the norm.

A. I sought out a lot of different specialists, extremely important in my son's development. The focus was always US helping HIM, how can we help him to talk, all the therapies, methods. But I always had a firm belief in the "soft sciences," healers, spiritualists. ... One of the healers said I had it all wrong. Your whole focus is "How am I going to heal him?" ... She talked about how he came to heal us, my husband and me, about me dying to my own self.

I don't like to whine. What I've come to understand with this child, is (I don't know who said this, Oprah?) the greatest humility is the recognition that the next person's life is as difficult as your life.

That's what this boy taught me.

I'm not going out on this tour with the idea that I get to go to L.A. and order room service and take a bath, watch all the movies on free TV and drink out of the well bar and see all my friends. I'm going out with some anxiety about what I'm going to say, talk about, that kind of honesty. I'm glad that I'm going to have to do this.

It's an important book for me to write. I had to tell this story. I had to talk about how (JohnJohn) impacted my life. He's such an incredible person.

One of the first readers of this book was my friend (Mark Romoser) who was autistic. He doesn't call himself autistic. He calls himself a unique being. I said, "What am I?" He said, "You're a typical." That's cool.

... I was afraid he would be offended by the honesty, because I stared autism in the face, and I wasn't going to color it. He said he had a hard time reading it, in the beginning, He said he understood me, and he totally understood and appreciated the way I felt, and he appreciated the way I said it.

I firmly believe that JohnJohn's presence in my life has confirmed that there are angels walking among us. It's been an affirmation that God is watching out for me, for us, willing to help us through the toughest times. This has been an incredible path, an incredible journey.