By Heidi Bornhorst
Advertiser Garden Columnist
Cup of gold is an old-fashioned plant that we don't see so much in Hawai'i gardens these days.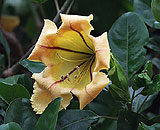 The dramatic cup of gold is one of those flowers that was often found in Hawai'i gardens in the early years of the past century, but isn't seen so often now. It's a hardy vine that needs some sturdy form of support to thrive: a good-sized tree or fence.

Deborah Booker • The Honolulu Advertiser

If you take a drive up Tantalus or the 'ewa side of old Pali Road, you might see the vines climbing high up into the trees and then cascading down. I also saw cup of gold vines recently at Lawai Kai, a gorgeous section of the National Tropical Botanical Garden on Kaua'i. The name of this plant is highly descriptive.

This is a bold tropical woody vine (or liana) that bears huge, spectacular, gilt-colored flowers that open in the early evening. The vine is massive and needs big strong trees or a structural support to grow up on, from which to send out its magnificent flowers.

One place to still see cup of gold on O'ahu is up Tantalus. In the trees of the moist regions, you will see festoons of the golden flowers on their heavy, woody vines.

Our family had a favorite dinner-time amusement. We would pick a cup of gold bloom at just the right fat, budded stage, set it in a vase of water at the dinner table and try to be the one to spot the opening of the petals. It is like watching time-lapse photography right on the dinner table. It was

always like magic (and it still is!) to see that first petal peel back, almost with a small explosion, and then to see each successive petal burst open and peel back. It's also a fragrant experience: Cup of gold has a unique perfume that is released as the flower opens.

By the middle of the next morning, the flower has drooped, but on the vines are more buds waiting to open up that evening. Cup of gold blooms most profusely from January to March.

At the showplace, landscape-designed garden, Lawai Kai, are some magnificent vines. These cascade through the huge canopy trees that soar overhead. Huge goldencup flowers are in the trees and with time they fall to the ground and amidst the many springs and water features in the garden. (However, those are drying up with the demise of sugar; the whole hydrology of the island is changing, according to Diane Ragone of the National Tropical Botanical Garden.)

You can grow cup of gold from cuttings. Although you will find cup of gold growing wild in moist, rainy areas, cultivation does well in drier locations if it is well nurtured and regularly watered for the first year or so. It likes to start life in a sunny place.

Besides being a magnificent climbing vine for the large garden, you can also keep it contained as a large pruned bush, or a flowing mass of green with big flowers. Cup of gold also makes a nice show sprawling around a sloped area, clambering over rocks and boulders, in a wildly impressive tropical fashion.

Cup of gold is native to Mexico. It is in the Solanaceae family, along with familiar relatives, including tomatoes, potatoes, eggplants, poha, popolo, angel trumpets and kikania lei. It is also called golden cup commonly, and scientists around the world know it as Solandra hartwegii.