By Catherine E. Toth
Advertiser Staff Writer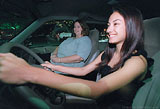 Now that she has had her permit for almost two years, Jessica Rilveria, 17, of McCully, says she feels comfortable driving although her mom, Christy, still worries.

Gregory Yamamoto • The Honolulu Advertiser

Jessica Rilveria is armed, but maybe not so dangerous.

The reason: At 17, the Mid-Pacific Institute senior will soon complete her required driver's education class and, if she's lucky, she will soon have her own set of car keys and a license for independence.

Thanks to a new state law that took effect Jan. 1, all drivers under age 18 have to complete a mandatory driver education program before taking a road test for their license.

You probably won't see the estimated 15,000 teenagers eligible to get their license each year doing cartwheels over the new law. The purpose of the law is to make sure teenagers get some in-class and on-the-road instruction before hitting the streets alone.

Statistics show that inattentive driving and misjudgment by teen drivers were factors in 91 percent of their accidents. And two out of three new drivers will get into an accident in their first year behind the wheel.

"That's why parents have to be very careful," said Wallace Inouye, a local driving instructor for more than 30 years. "Parents' biggest concern is having their children stay out of trouble on the road."

Driving instructors may be able to teach teens how to avoid collisions, change lanes safely and drive defensively.

However, driving instructors say parents have more influence on their teen's driving behavior. They can shape their habits by making them adhere to ground rules, and teaching them to stand up for themselves in times of peer pressure and make smart decisions.

Good habits start at home, the experts insist. Parents who have trained their children to wear safety belts, for instance, will have teens who automatically strap in when they get into a car.

This is no easy task for parents. But with some advice from experts, helping your teen driver make a safe and wise transition to independence need not be daunting.

The addition of more freeways, the increasing number of cars on the roads, and the mixture of inexperienced teens and aging drivers behind the wheel has made driving on Hawai'i's roadways an increasingly nerve-racking and often dangerous task.

"Driving conditions have changed," Inouye said.

Every driving instructor will attest to this: Teenagers are easily distracted.

Therefore, they all stress the importance of minimizing distractions and keeping the teen focused on safe driving.

While instructors advise inexperienced drivers to avoid using cell phones and checking pagers, the biggest culprits in distracting teenagers are other teenagers.

Passengers a risk

A study in the Journal of the American Medical Association indicates that the risk that a 16-year-old driver will die in a car accident is 39 percent higher if there is one passenger in the car, 86 percent higher if there are two passengers, and 282 percent higher if there are three or more passengers.

"Teenage friends often encourage the driver to do things that are not correct," said Chester Clark, Y Primedriver instructor. "The teen environment (in the car) is not good for them."

This phenomenon has another name: peer pressure.

Friends may pressure the teen driver to speed, dart between cars or drive at night without headlights. Parents need to talk to their teens early about the serious consequences of misjudgment and irresponsibility, instructors tell parents. If teens fail to pay attention or try to impress friends, it could be fatal.

"Kids don't pay attention while driving and get easily distracted," said Christy Rilveria, Jessica's mom and front desk clerk at the Nu'uanu YMCA. "I just want her to realize how important it is for her to pay attention. She's responsible, but she's easily distracted by her cell phone."

Rilveria has already set up some ground rules: Jessica can't keep her cell phone or pager on, or drive a car full of other teens.

"I don't want her going all over the place with the car and her friends," Rilveria said. "You have more chances of getting into accidents. I want her to just use the car to get from point A to point B."

Driving instruction programs teach teens to think for themselves, make smart decisions and improve their driving skills.

That's what Jill Loui is hoping her 16-year-old son will learn.

The 47-year-old free-lance graphic designer from 'üina Haina and mother of three wants her son "to understand what a huge, huge responsibility (driving) is - to be able to hopefully have good judgement and make the right decisions because there's so many crazy drivers."

According to the state Department of Transportation, car crashes are the leading killer of people ages 15 to 20. Inexperience, speed, too many passengers and failure to use seat belts are common in collisions involving teens.

Parents' hopes

"My biggest fear is something will happen, they'll make a mistake that will change their lives," Loui said. "You send them off and tell them to be home at a certain time, no drinking, be careful, and you cross your fingers and hope they come home safe and sound."

Loui is setting curfews and ground rules, and talking with her two older children about safety.

"Parents should set ground rules, absolutely," said Clark, who a driving instructor for 19 years. "And, when the kids abuse their driving privileges, there should be consequences for breaking the rules."

He stresses firm and conservative curfews for teen drivers. That keeps them off the roads at night and, hopefully, out of harm's way. What constitutes a "safe" curfew depends on the teen.

"As much as we like to think we have good curfews for our kids, (often) we don't," Clark said, adding that a lot of accidents involving teens occur between 10 p.m. and 2 a.m. "Kids are out when they shouldn't be out. Parents are not enforcing curfew, or they're not setting them."

Experts agree that if teens have to earn the driving privilege, they will likely treat it as such.

Loui's oldest daughter, now 17 and a senior at Punahou School, has proven to be a responsible driver to her parents.

Practice, experience

At first, she had to ask to use the family car, wasn't allowed to transport her friends and couldn't drive at night. That was for her safety. Now she uses the car whenever she needs to go to school or paddling practice, and is responsible for maintaining and repairing the car.

"She had to earn that privilege," Loui said.

Inouye said it takes five years to become a good driver. But teens need practice. He advises parents to take the new law seriously: Teens under age 18 are required to clock 50 hours of on-the-road practice (40 during the day, 10 at night) before being awarded a license. It may be time-consuming, but the practice helps them become better - and safer - drivers.

"It doesn't matter who gets it done," Clark said, referring to the dilemma parents have of deciding between taking their children themselves to log their 50 hours of practice or hiring a professional instructor to do it.

Adults who are practicing with the teen drivers should be over 21 and have at least five years of driving experience, he added.

In the end, experts say, the classroom instruction and on-the-road practice time is well worth it.

"I'm just worried that (my 16-year-old daughter) might get into an accident or hurt somebody," said Kathy Ahlo, administrator for the drivers education program at the Nu'uanu YMCA and mother of three.

"There's crazy drivers out there. So going to this class hopefully will make her more aware, make them better drivers. I believe in this law, even though (the programs) cost so much. In the long run, if it saves a life, it's worth it."