By Catherine E. Toth
Advertiser Staff Writer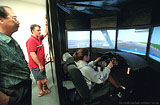 Danielle DeMello, a 9th grader at La Pietra Hawai'i School for Girls, tries a video driving simulator at the Nu'uanu YMCA while she is watched by Gary Au of Drive Safe Hawai'i, left, and Jared Powell of KQ Corp.

Gregory Yamamoto • The Honolulu Advertiser

You may have finally won the use of those car keys. But now you also carry some serious responsibility. To help you keep your driving experience enjoyable and safe, here's advice from local driving instructors on what to do in some common risky driving situations:
Someone's tailing you: Maintain your speed, but leave a greater following distance from the car in front, said Wallace Inouye, certified driving instructor. If you're on the freeway, change lanes or pull over. "We don't teach teens to press on their brakes to scare the guy behind you," he said. With road rage contributing to accidents all over the country, the last thing you want to do is upset the tailer, or yourself.
You notice an erratic or drunk driver: "Get out of their way," advised Chester Clark, Y Primedriver instructor. That may mean pulling over if it's safe, or changing lanes. Be aware of other drivers, both in front and behind you. If the drunk or erratic driver is in front of you, keep your distance. "Don't pass the driver," Inouye said. "Keep them in front of you so you can watch them."
Your cell phone rings: Don't answer it. Most accidents occur because drivers are distracted, and cell phones and pagers are common distractions. "If you have to use it, pull over," Inouye said.
Your friends pressure you to drive them around: It's hard to do, but if you're still an inexperienced driver and your parents have told you not to give your friends rides, be honest and tell them no. Your chances of getting into an accident increase greatly if there's another teenager in the car with you. "You're talking to them, listening to the radio, changing CDs - that's distracting," he said.
Be safe. Use the car for only the purposes outlined by your parents. When you get more practice, the rules will loosen. Don't take chances now.