By Zenaida Serrano Espanol
Advertiser Staff Writer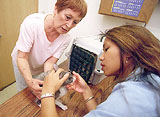 Patricia Dougherty, left, gets her cat Dudley examined by veterinarian Dr. Cynthia Aglubat Collier of the Waipahu-Leeward Veterinary Clinic & Pet Center. A multi-cat owner, she opted for no insurance because of costs.

Bruce Asato • The Honolulu Advertiser

Keoki, a golden labrador retriever, got into a rubbish can about a year ago and ate shrimp shells that made him sick. Immediately after that incident, he developed pneumonia.

His owners, Tracie and Scott Morneau of 'Ewa Beach, brought him to a veterinary clinic where he received two antibiotic shots. Thanks to Keoki's pet health insurance, the Morneaus were reimbursed $100 by the insurance company for a vet appointment that otherwise would have cost them about $200.

Keoki, now almost 3 years old, has been covered by a Mainland-based company called Veterinary Pet Insurance since June 1999. The Morneaus found out about pet health insurance while watching a cable television program.

They pay $26 a month for Keoki's insurance, but "to us, it's worth it because (each time) we take him to the vet, it does get expensive," Tracie Morneau said.

Like many Hawai'i residents, the Morneaus long had no idea that pet health insurance was available to pet owners.

Dr. Cynthia Aglubat Collier, a veterinarian at Waipahu-Leeward Veterinary Clinic & Pet Center, has worked at the clinic for about 18 months and sees an average of 200 patients per month. Of those animals, she said, only one or two typically are covered by pet insurance.

Although pet insurance has been around for about 15 years in Hawai'i, Collier said she thinks many pet owners don't have it simply because they don't know it is available.

"It's not very well-advertised," Collier said.

Pet insurance 101

Pet owners usually are responsible for paying any veterinary costs incurred. Those with pet insurance are later reimbursed by their insurers for the services their vets provide. However, the reimbursement amount depends on the insurance policy.

Some companies that offer pet health insurance in Hawai'i are Veterinary Pet Insurance, Premier Pet Insurance and Pet Care Plus + Inc. (see box), with VPI the most common one accepted at local veterinary clinics.

Pet insurance plans can cost between $100 and $300 a year and are usually based on species (some plans cover only dogs and cats), age and pre-existing conditions. As with human medical insurance, pet insurance has different types of coverage plans, deductibles and annual premiums.

Depending on the plan, the coverage varies. Some plans are extensive and cover office visits, exams, hospitalizations, prescriptions, lab fees and x-rays, while other plans cover only accidents and illnesses.

Owners with more than one pet usually pay a reduced rate for add-ons after the first pet.

While pet health insurance is usually more common among pure-breeds, Collier said pet owners with high-risk animals, such as labradors, rotwilers or poodles, which are "notorious for all kinds of congenital problems," should consider insurance.

She added that owners with older pets may also benefit from insurance.

"They're just like people," Collier said. "As (the pets) get older, it's more common to (get sick)."

Collier recommends consumers ask the same questions that they would when looking into human medical insurance.

"They should look for what the policy limits them to," Collier said.

For example, pet owners should see if they are limited to which providers they can see and what types of medical procedures or services can be performed on their pets.

Pet owners should also take into consideration how much the general maintenance of their pets costs.

"An average yearly office visit is probably about $100, and that's for vaccinations, heart worm tests, that kind of thing," Collier said. "If the pet insurance is less than $100 per year, that's definitely a huge benefit."

Pros and cons

Opinions vary on whether pet insurance is worthwhile.

Patty Hays, a receptionist at the Honolulu Pet Clinic, handles the insurance paperwork for clients at the clinic and thinks insurance doesn't really benefit owners who take their pets to the vet just for regular checkups and annual visits.

"One of our clients was pretty surprised cause he only got a $10 (reimbursement) check," she said. "His visit must have been (worth) about $200.

"(Pet insurance) makes it easy for some people for certain procedures...things like (major) surgery," Hays said. "But the reimbursement isn't that much."

Patricia Dougherty of Waipi'o thought about getting insurance for her five pure-bred cornish rex cats, but ultimately chose not to get it.

"I have looked into it in the past, but for multi-cats, it's very expensive," said Dougherty, whose cats are also showcats. "(It) can't even be considered."

Dougherty recently brought three of her cats - GiGi, 3, and GiGi's 6-month-old kittens, Dudley and Arabella - to the Waipahu-Leeward Veterinary Clinic & Pet Center for an appointment with Dr. Collier.

"I think what would really help is if the (pet insurance) companies could figure out some way to (cover an entire) family." Dougherty said. "Especially for people who breed ... they just can't afford it."

On the other hand, Tracie Morneau said she is pleased with Keoki's insurance. Even though they are usually reimbursed only $10 for regular office visits and $15 for his heartworm medication, Morneau is happy to get something back.

"He's a member of our family (and) we refer to him as a big brother to our newborn daughter," Morneau added. "We want to do whatever we can to keep him around for as long as possible."

Pet health insurance can also improve a veterinarian's ability to diagnose illness.

"I think one of the pros from the veterinarian's perspective, not just the owner, is it gives us more flexibility," Collier said.

She said that clients with pet insurance seem more open to running procedures on their sick pets, whereas owners without it are more hesitant. Collier said that the more procedures and tests that are given to the patient, the more information vets have to work with.

"You have all this information base, and you can make a real accurate or very well-educated diagnosis," she said.