By Catherine E. Toth
Advertiser Staff Writer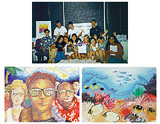 TOP: Some of the student editors cut loose. BOTTOM LEFT: "Our Liquid Resource," by Juanito R. Garcia Jr., appears in the book. BOTTOM RIGHT: Derek de Guzman's "Toward the Horizon" — one of the book's many pieces of art — is de Guzman's perspective of the future.

The message from the editors says it all: "Caution! Reading this book may cause you to make a difference."

At least, that's what the 14 high school editors hope.

"Na Leo o Na 'Opio o Hawai'i: The Voices of Hawai'i's Youth" is the result of their research, innovation, creativity and just plain hard work over the past two years.

Written for kids and teens, the book looks at this generation's priorities, problems and progress. The book examines the top 10 areas that the student editors felt are affecting today's youth, including crime, education, drug abuse and technology.

It's no wonder, then, that it was a project supported by the Hawai'i Community Services Council. The council is a nonprofit organization that works with the community, businesses, government and nonprofit groups to encourage growth in a community's capacity to share and direct its own future.

Stemming from the Ke Ala Hoku project, which looked at community problems and solutions, the book is geared toward taking action.

Everyone - kids, educators, politicians - is invited to learn and to do something.

"You don't see a lot of stuff like this," said Jolyn Campbell, a 16-year-old junior at Hilo High School and one of the book's student editors. "It's all about youth and the things that could affect them. And it's made by us. It's not just statistics. It's stuff we know about and can relate to."

Each section is jam-packed with facts, charts and photos. But what makes this book useful is its focus on solutions, all conjured up by students.

In the section on environment, for example, charts illustrate O'ahu's trash production and the number of native plants listed as endangered or threatened species in the state.

But the section also highlights simple solutions: Put rubbish in its proper place, clean your hiking shoes before and after each hike to avoid spreading seeds of evasive plants, and repair things instead of replacing them.

"It's really a kind of two-fold purpose: To call attention to the issues that young people claim are affecting their lives, and to get them to try and do something about those problems," said Rob James, 26, a project coordinator for the group.

The words and visuals were provided by the 14 student volunteers, who were ages 14 to 18 and from various public and private high schools across the state when they worked on the book. They also conducted community meetings, researched youth issues and organized an art contest to give the book some depth. It took the group two years to complete the project, and most of them have since graduated from high school and are attending college.

For Campbell, who is active in her high school and captain of the swim team, working on the book reinforced the importance of teamwork.

"It has given me a different view of how people work," she said. "Everyone has different opinions. I have a bigger understanding of how people think. This was a diverse group of kids. Agreeing on everything took a lot of work."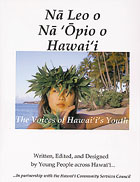 "Na Leo o Na 'Opio o Hawai'i: The Voices of Hawai'i's Youth"
WHAT: A book by local teenage writers, editors and designers, in partnership with the Hawai'i Community Services Council
WHERE TO BUY: $4.99 at Borders Books Music and Cafe at Ward Centre, e808.com and at the Hawai'i Community Services Council
INFORMATION: Call 529-0466 or check out www.hcsc-hawaii.org