Advertiser Staff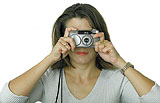 Have you taken a great picture of one or more folks in your family - a photo that evokes warm feelings, and a strong sense of 'ohana and the unique culture of Hawai'i?
Enter our family photo contest, "'Ohana in the Islands," and if you win, you'll see your photo published in an upcoming issue of the 'Ohana section.
If that isn't incentive enough, there are prizes to be won, too.
The first-place winner will receive passes for four to Hawaiian Waters Adventure Park, plus four limited-edition Honolulu Advertiser/University of Hawai'i polo shirts.
The second- and third-place winners each will receive $25 restaurant gift certificates. And there are other Advertiser logo items for all the winners, including honorable mentions.
Here are the contest rules and instructions:
Photos must have been taken during the year 2000.
Photos must be taken by amateurs who are Hawai'i residents or Hawai'i-stationed military. We cannot accept professional photographs or photos that have won recognition in other contests.
Only hard copies of photos can be accepted. Sorry, but we can't take slides or photos sent by e-mail. Photos may be color or black and white, and no larger than 8 inches by 10 inches.
Send us a copy of the photo that you can spare. Because of the great number of entries we expect to receive, we can't return any entries.
Only one entry per family is allowed.
Write your name and phone number in permanent ink on the back of your photo.
If your picture is smaller than 8 x 10, please tape or glue it to a plain white, 81/2 x 11 inch piece of paper.
On a separate piece of paper, include your name, address and phone number; the date and place the photo was taken; and the identities of all people in the photo. Then write a brief statement: What makes this photo special? Why do you think it matches the "'Ohana in the Islands" theme?
Entries must be received at The Advertiser by 4:30 p.m. Feb. 20. They will be judged for content, technical quality and expression of the theme. Mail your entry to: 'Ohana in the Islands Photo Contest, 'Ohana Section, The Honolulu Advertiser, P.O. Box 3110, Honolulu, HI 96802. Winners will be notified by phone.