WAC men & UH box scores
By Dayton Morinaga
Advertiser Staff Writer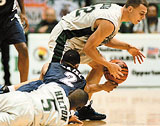 Hawai'i's Nerijus Puida, top, and David Hilton scramble for the ball with Nevada's Andre Hazel (2) in the first half.

Cory Lum • The Honolulu Advertiser

It wasn't Coyote Ugly, but Wolf Pack Ugly was scary enough for the Hawai'i men's basketball team last night.

Two days after beating the first-place team in the Western Athletic Conference, the Rainbows survived a 76-69 victory over the last-place Nevada Wolf Pack.

A crowd of 4,515 at the Stan Sheriff Center watched Hawai'i improve to 10-10 overall and climb from seventh place to sixth in the nine-team WAC at 4-5. Nevada, which has now lost 10 of its last 11 games, fell to 8-12 and 1-8.

"It's an ugly win, but it's a win," Hawai'i senior co-captain Troy Ostler said.

Added freshman forward Phil Martin: "It was an escape. It's not the kind of win you want, but we'll take it."

Despite leading for most of the game, Hawai'i made it interesting at the end, allowing Nevada to cut a 14-point second half deficit to three in the final minute.

"It came down to crunch time, and we got nervous," Martin said. "We were hanging on for dear life waiting for the time to run out."

Clutch free-throw shooting by Predrag Savovic and Nerijus Puida preserved the victory for Hawai'i.

"(Nevada) is walking out of here saying 'We'll kick their butts when they get to Reno,' " Hawai'i coach Riley Wallace said of the teams' upcoming rematch on Thursday. "Because they were right there at the end."

Until that closing scare, the Rainbows controlled most of the game, just as they did in a 91-73 upset of No. 19-ranked Fresno State on Thursday. In particular, the Rainbow reserves ignited a late first-half surge that gave Hawai'i a lead it would never relinquish.

Mike McIntyre came off the bench to score eight points during a 15-0 run that turned an 18-17 deficit into a 32-18 Hawai'i lead. Back-ups Mindaugas Burneika and Carl English also scored during the Rainbow run.

McIntyre scored 13 of his 15 points in the first half, guiding the Rainbows to a 35-25 advantage at halftime. The lead increased to as much as 62-48 midway through the second half before the late Nevada rally.

"We had guys other than (Ostler and Savovic) step up," Wallace said. "Earlier in the year, we wouldn't have done that."

As proof, five different Rainbows scored in double-figures: McIntyre (15), Savovic (15), Martin (14), Ostler (11) and Puida (10). Burneika was one point shy of joining them in double-figures. What's more, 21 of Hawai'i's 25 field goals came off assists.

"That's how we like it," said Ostler, who also grabbed a game-high eight rebounds to lead the Rainbows to a 35-27 advantage on the boards.

The Wolf Pack stayed close throughout the second half, but could never overcome the deficit. The closest they got was 72-69 with 46.3 seconds remaining when Terrance Green scored six points during a 17-second span.

"Down the stretch, they applied pressure and we didn't react to it," Wallace said.

Savovic made all four of his free throws and Puida made both of his in the closing seconds to save it.

Nevada didn't help its cause, missing six rushed 3-point shots in the closing seconds, and converting just seven of 15 free throws in the second half. In contrast, Hawai'i made 15 of its 17 free throws in the second half.

"With a team like ours, the margin of error is very slim," Nevada coach Trent Johnson said. "And we're not a very good free-throw shooting team; haven't been all year long."

Green did not start the game for the Wolf Pack, but still finished with a game-high 25 points. His replacement in the starting lineup, Garry Hill-Thomas, added 16.