Advertiser Staff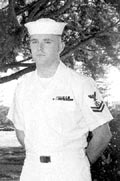 Petty Officer 2nd Class Stephen Pakola, a religious program specialist with Headquarters Company, 3rd Marine Regiment.

Photo courtesy U.S. Marine Corps.

Petty Officer 2nd class Stephen Pakola earned the gratitude of a Windward business owner on Jan. 18, when he returned a lost bank deposit bag found in a Kailua parking lot.

Last week, the Marines posted the story of Pakola's good deed on its national Web site.

Pakola, a religious program specialist, picked up the blue American Savings Bank bag. Later, he found $3,725 in cash and money orders, and about $11,000 in receipts inside.

"Believe me, I thought about keeping the money, but then I thought about the people whose families relied on that money, and then the decision was pretty simple," Pakola said in an article submitted by the Marine Corps base in Kane'ohe.

The sailor returned the deposit the next morning. A few days later, he got a call from Rod Seibel, owner of First Quality Building and Design Inc., who thanked Pakola for retrieving the deposit containing employees' payroll.