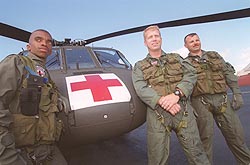 Sgt. Fitz Dickson, medic, left, and chief warrant officers Michael Turner and Gerald Stanford, UH-60 Blackhawk pilots, stand in front of their MAST medevac helicopter at Wheeler Army Air Field.

Bruce Asato • The Honolulu Advertiser
Army pilot cites hazard to rescues
On missions flown by helicopter pilots in the Army's 68th Medical Detachment, direct communication with the Honolulu Fire Department is impossible until the helicopters touch down, because the radios are incompatible.
Army medevac crew is airborne
The 68th Medical Detachment's emergency airlift team, based at Wheeler Army Air Field, has an average of 17 missions a month, which makes it the most active Military Assistance to Safety and Traffic program in the world.
Sailor returns lost money
Petty Officer 2nd class Stephen Pakola earned the gratitude of a Windward business owner on Jan. 18, when he returned a lost bank deposit bag found in a Kailua parking lot.
Briefs
Soldiers to fight fictitious enemy; Fuel recovery to be discussed; Three Navy ships coming home; Pearl Harbor mall being built
We want your photos
If you're stationed in Hawai'i and have recreational snapshots from interesting places while on deployments around the world, we'd love to share them with readers. Send pictures to Base Snaps/Military Briefing, The Honolulu Advertiser, P.O. Box 3110, Honolulu, HI 96802.