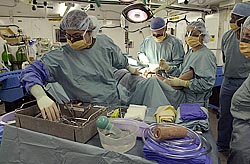 Navy surgical tech Kimberly Marin reaches for instruments while the doctor, Maj. Craig Bottoni, background left, performs a surgical procedure in one of the field hospital's operating rooms at Schofield Barracks.

Richard Ambo • The Honolulu Advertiser
Medical drills put troops to test
Pacific Warrior 2001 was a recent two-week medical exercise involving 18 military units and 1,500 active-duty and reserve personnel. The goal was to give troops confidence through realism. Part of the training included field surgeries.
Gotta regatta
The Marine Corps invites aquatic, engineer-minded entrants — civilian and military — to design vessels and compete in Marine Corps Base Hawai'i's Ocean Concepts BayFest 2001 Bathtub Regatta on July 15 at 2 p.m.
Briefs
Helicopter noise to be minimized; Soldiers to train on Hokkaido; Surgical teams off to Cambodia; Hickam had big impact on state; War remains returned to U.S.
We want your photos
If you're stationed in Hawai'i and have recreational snapshots from interesting places while on deployments around the world, we'd love to share them with readers. Send pictures to Base Snaps/Military Briefing, The Honolulu Advertiser, P.O. Box 3110, Honolulu, HI 96802.