By James Gonser
Advertiser Leeward Bureau
WAI'ANAE — Israel Kamakawiwo'ole could once again gaze over the Wai'anae Coast he loved so dearly if sculptor Jan-Michelle Kaiulani Sawyer is able to drum up enough support.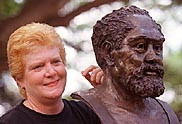 Professional sculptor Jan-Michelle Sawyer, who created this likeness of Gabby Pahinui, now hopes to honor 'Bruddah Iz.'

Jeff Widener • The Honolulu Advertiser

Sawyer, who creates lifelike bronze sculptures, wants to make a three-quarter-size statue of "Bruddah Iz" to pay homage to the legend whose music expressed what it meant to be Hawaiian — and proud of it. "Iz" died in 1997.

"I would like him to be facing the ocean," Sawyer said. "He talked so much about the Wai'anae coast and all his memories there. It makes sense to honor him, to put him in an area that meant so much to him."

Sawyer expects to spend nine months to a year creating the huge statue, beginning with a clay likeness and having it cast in bronze. She estimates the cost at $145,000 to $165,000 for the figure and a bust of Kamakawiwo'ole to be placed at the Waikiki Shell, alongside a bust she made of legendary slack-key guitarist Gabby "Pops" Pa-

hinui. Sawyer is seeking grants and donations from the city, state, individuals and local businesses.

"Bronze is running $500 a square foot, and Israel was quite a large man," Sawyer said. "To make him life-size could be too huge. Even three-quarters size, it will be a heck of a lot of bronze. The casting alone will cost $30,000 to $40,000."

Kamakawiwo'ole was only 38 when he died of respiratory failure on June 26, 1997. An estimated 5,000 people came to pay their respects while he lay in state at the Capitol, only the fifth person ever to be so honored.

Kamakawiwo'ole was in his early teens when the family moved from Kaimuki to Makaha, and he formed with his brother Skippy the Makaha Sons of Ni'ihau.

The 800-pound man with the 'ukulele and the sweet voice can still be heard across the Islands and around the world. More than three years after his death, his popularity continues to increase, helped by the medley "Over the Rainbow/What a Wonderful World" played on movie soundtracks and in TV commercials.

Having secured permission from the late singer's family to move ahead with the project, Sawyer attended the Wai'anae Coast Neighborhood Board meeting last week and asked for support.

Board member Patty Teruya, also a member of the Kahanamoku Family Foundation, is helping to raise money. Teruya would like to see the statue placed in front of the Wai'anae Community Center.

"It is a gathering place for the community and is maintained by the city, so we know it will be protected from vandalism and well taken care of," Teruya said. "He was so well loved and his music was and is an inspiration. Whatever age you are, his music touches you."