Pageant hopes updated look will draw younger viewers


By Catherine E. Toth
Advertiser Staff Writer
Christy Lynn Leonard's story dispels the myths about "pageant girls."
She didn't enter the Miss Hawai'i USA pageant to prove herself, make career connections or fulfill a lifelong dream of being a beauty queen.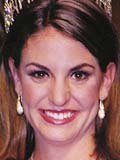 Christy Lynn Leonard will pursue a master's degree in business administration at Hawai'i Pacific University.

She didn't do it because her parents pushed her into it, because she had been participating in pageants all her life or because of the challenge.

The 22-year-old resident of Lahaina, Maui, did it for one reason: the scholarship.

Already accepted into the master's of business administration program at Hawai'i Pacific University, Leonard saw the opportunity to win free tuition. And in her first pageant last May, she captured the Miss Hawai'i USA crown. She left last week for Gary, Ind., where she's preparing for the Miss USA pageant.

During the Hawai'i competition, "I was nervous," admitted the effervescent Leonard. "I didn't know what to expect."

Though she felt confident that she had done well in the closed-door interview, Leonard never thought for a second that she was going to win.

Striking at 5-feet-11, with shiny hair, a creamy complexion and curves in all the right places to complement her confident strut and calm composure, Leonard commands attention.

Miss USA Pageant
Host: William Shatner.
Judges: Multimedia maven Martha Stewart, MTVj Ananda Lewis, actor Daniel Baldwin, "Everybody Loves Raymond" star Doris Roberts, radio personality Dr. Drew Pinsky, Revlon spokesmodel Karen Duffy, actor Ernie Hudson and boxer/basketball player/recording artist Roy Jones Jr.
Web site: www.missusa.com.
Airs: 8 p.m. March 2, CBS, KGMB-9.

One Sunday afternoon at the Hawai'i Kai Golf Course driving range was enough to prove she was more than a beauty queen. A fan of golf and more than an avid golfer, Leonard gripped the driver and sent a few balls spiraling toward the flags in the distance. But even after shanking a couple of balls, she laughed it off, stood confidently at the tee and ripped another ball toward the flag.

Attitude is everything, they say. And Leonard's attitude has always been to do her best and enjoy the ride.

"This whole thing came at a perfect time in my life," she said.

Her athletic build, from playing competitive high school and beach volleyball, makes her strong and trim, but not unhealthy-thin.

Her poise, from years of ballet, jazz, tap and hip-hop lessons, makes her confident on stage.

Her ability to juggle demanding schedules, from learning the value of hard work from her entrepreneurial Lahaina family, makes her able to keep her focus on graduate school and her career goals despite a hectic schedule that involves traveling, volunteering and speaking to students on a weekly basis.

What she gets out of this experience equates to what she's putting into it.

"It's a one-year opportunity," Leonard said. "I want to make the most of that."

Independent by nature, she took it upon herself to find community events to attend and service projects to commit to after she won the pageant. Creating what she calls a "game plan," Leonard sent out hundreds of letters, photos and business cards to community organizations, letting them know who she was and what she is capable of doing.

She has volunteered for the Shriners Hospital for Children, Kids Voting Hawai'i and the Taste of Lahaina Halloween Parade, among other events.

She is also an active speaker for Positives Connections, talking to students about goal-setting, motivation and self-esteem.

"She's very ambitious, competitive, a leader," said 45-year-old Kathleen Leonard, who has been Christy's stepmom for the past 14 years. "She's pretty dynamic."

And busy.

She juggles 6 a.m. workouts with crash courses in pageant training. She reads everything in sight. She watches news religiously.

She spends time with her half-siblings on Maui and keeps in constant touch with her mom and stepdad in California, where she was born.

And in between all this, she tries to relax at the beach and hang out with friends.

Even before winning the title, she was difficult to track down.

Growing up in Lahaina, she was the "chief scooper" at a Lappert's Ice Cream shop her family ran. Her Lahaina family recently opened a new restaurant, Fleming's On the Green at the Kapalua Resort on Maui, and Leonard works there, too, between her Miss Hawai'i USA duties.

As well, she continues to work part time as an event planner with Communicator Sports & Entertainment, a sports marketing company that recently put on the Mercedes Championships and the Sony Open.

"(Work) is something we believe in," Kathleen Leonard said. "And this is what has made her the person she is today."

Thinking ahead to the pageant next week, Leonard said the chance to compete for prizes, money and to shine in a national spotlight aren't what motivate her to do her best. She will because that's what she always tries to do. And in her mind, she's already won, no matter who walks off the with the crown.

"I've been so lucky in all I've done," she said, retrospectively. "I've had such a full life already. Most people don't have the life

I live or have the blessings I have. I don't think there's anything that could bring me down."