By Brandon Masuoka
Advertiser Staff Writer
Police believe that more theft suspects are resorting to dangerous, all-or-nothing escapes from the law, and authorities cited Tuesday's wild getaway at the Pali Lookout as a prime example.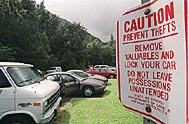 An incident at the Pali Lookout Tuesday in which an officer was badly hurt is seen as another example of violence exhibited by people breaking into vehicles. The fleeing suspects rammed a gate that hit the officer.

Richard Ambo • The Honolulu Advertiser

A Honolulu police officer was injured at the scenic lookout Tuesday when fleeing thieves driving a stolen car rammed a gate and the gate hit her.

"It seems to me, that there's an increasing number of suspects who are endangering their lives, the officers' lives and the public's lives to prevent arrest," said Maj. Stephen Kornegay, who commands the Kalihi district. "It's scary for the officers and scary for the public."

In Hawai'i, property criminals, particularly auto thieves, have been known to speed away from police, and in some cases, have tried to run over authorities to escape.

Last November, a 19-year-old man allegedly tried to run down two police officers in a stolen car in West O'ahu.

Last October, police said Bernard Crivello, 25, rammed his stolen car repeatedly into a police three-wheeled vehicle and then drove his car at a police officer who fired one shot, fatally wounding Crivello in Waikiki.

Last year, an auto theft suspect tried to drive away from police in downtown Honolulu and "jumped out" of the stolen car while it was still moving, said Maj. Michael Tucker, who commands the downtown Honolulu district.

Police started the Pali Lookout undercover operation after a rash of car break-ins, Kornegay said. Recent statistics showed there were eight car break-ins in November.

Kalihi officers identified the problem, took the initiative and assembled a team to solve the problem, Kornegay said.

According to police, Tuesday's incident unfolded like this:

Undercover police observed thieves breaking into a parked car. When the thieves spotted the plainclothes officers, they fled in a stolen Saturn.

The plainclothes officers radioed to other officers at the Pali Lookout entrance and notified them to the fleeing suspects. The officers tried to close the gate, but the thieves rammed the gate, injuring the officer who suffered internal injuries. The 32-year-old woman was treated at the Queen's Medical Center.

The suspects, who are still at large, face possible criminal property damage and assault charges, police said.