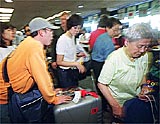 Japanese tourists wait in customs inspection lines at Honolulu International Airport. An extended holiday has brought more Japanese to Hawai'i.

Bruce Asato • The Honolulu Advertiser
Extended holiday boost for industry
Normally, the majority of Japanese tourists arrive a few days before New Year's Day and leave by today. Yesterday, as if to support that pattern, 8,000 tourists returned to Japan. But nearly as many more tourists were still arriving.

Fed move is 'good news' for Isle rates
The Federal Reserve's dramatic decision to lower a key interest rate yesterday to boost a slowing Mainland economy also is expected to help strengthen positive growth trends in Hawai'i, local economists and lending officials said yesterday.

Hawai'i economy 'getting better'

Coming Events