By James Gonser
Advertiser Central Bureau
WAIPAHU — Seven workers for Pioneer Hi-Bred International were exposed to an insecticide yesterday and taken to St. Francis Medical Center-West for treatment.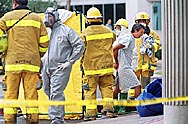 A worker from Pioneer HI-Bred International, at right, leaves a decontamination booth set up outside St. Francis Medical Center-West in Waipahu. Seven workers in Waialua were covered by a cloud of insecticide yesterday.

Bruce Asato • The Honolulu Advertiser

The seven, including two supervisors who drove to the hospital, were washed down in a shower set up in the St. Francis parking lot by an emergency room crew. A fire department hazardous materials team supervised.

Hospital spokeswoman K.C. Lilly said the workers were held for observation and released yesterday afternoon.

Richard McCormack, plant manager at Pioneer, said four men and a woman were working at their Waialua facility about 8:30 a.m. when the wind shifted and a cloud of the insecticide chlorpyrifos from a neighboring farm covered the crew.

Chlorpyrifos, under its trade name Lorsban, is used to control many insects in vegetables and other crops. Treatment for skin exposure is to wash the chlorpyrifos off with soap and water and remove contaminated clothing and shoes.

Fire Department battalion commander John Coe said there is no risk to the community as long as those who were exposed have been decontaminated.

McCormack said the insecticide is not considered to be extremely hazardous.

"This is the first time anything like this has happened to us," McCormack said. The company has 35 employees and grows and exports corn seed for feed stock.