By James Gonser
Advertiser Central Bureau
WAIPAHU — Business is off as much as 40 percent at some businesses in the Waipahu Town Center since the Safeway store closed suddenly Nov. 30.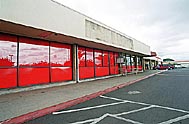 A section of the parking lot at Waipahu Town Center has been empty since the Nov. 30 closure of a Safeway store.

Bruce Asato • The Honolulu Advertiser

And though there have been inquiries about the space, a new anchor tenant has yet to be found.

"It is essential to fill the space quickly," said Phillip Keipper, principal broker and property manager for the shopping center. "There is no question that Safeway's departure has had an adverse effect on some tenants in the center and will continue to do so over time."

Safeway general manager John Obery said Safeway's property development department is looking for a suitable tenant to take over its location and has received a number of inquiries.

Obery said a tenant has not been selected and could not say when that would happen.

A decision on possibly selling the property is also out of his hands, he said, and would be handled by the company's real estate department.

Ten rows of parking — 120 stalls in all — sit nearly vacant outside the former Safeway store. The 41,000-square-foot store, which opened in 1989, closed because the location did not meet the company's bottom line expectations, according to Obery.

Bob Pham, owner of Debbie's Jewelry two doors away, said his business has dropped about 40 percent since the grocery store closed.

"We depend on people walking by for business," Pham said. "Our customers know we are here, but it was very convenient to come here and go to the supermarket. Now they must go out of their way to shop here."

Managers in other center stores agreed that business has dropped since Safeway closed, but did not want to go on the record.

Several businesses in Waipahu have closed in recent years, including Arakawa's, Big Way Supermarket, Sack & Save Foods and the Flamingo restaurant.

Keipper said when stores close, the market becomes less competitive and prices go up.

"Safeway made a decision to leave Waipahu and the tenants would like to fill that void as quickly as possible," Keipper said. "A true kama'aina company would consider the interests of the community in its decision process."

Obery said Safeway, which markets itself as "Your Kama'aina Food & Drug Store" is committed to staying and expanding in Hawai'i.

The Safeway location is still home to a Bank of Hawai'i branch until Feb. 20. A narrow path framed by tall sheets of plywood funnels customers to the bank branch, which was required by the Federal Deposit Insurance Corp. to give customers 90 days' notice before shutting down.

Fellow center anchor Longs Drugs has said it has no plans to close.

Keipper said he has not heard directly from Safeway about its plans, but said another grocery store moving in would be perfect.

"I really cannot market the space because it belongs to Safeway," Keipper said. "The best fit would be another grocery store because it is already fitted out for that purpose."