By Hugh Clark
Advertiser Big Island Bureau
WAIKOLOA, Hawai'i — "Papa" Henry Allen Auwae, a noted Hawaiian herbal healer, died Sunday at age 94.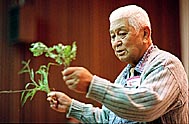 "Papa" Auwae was honored as a "living treasure" and never charged money for sharing his knowledge of traditional Hawaiian medicine.

Advertiser library photo • Jan. 28, 1994

Auwae, who lived in Hilo's Hawaiian community of Keaukaha for 55 years, died at North Hawai'i Community Hospital in Waimea on New Year's Eve. He had been living with his son, Ronald, in Waikoloa in recent years.

Auwae was widely recognized for his postretirement pursuit of herbal remedies, winning recognition as a "living treasure" from the Honpa Hongwanji Buddhist Temple of Honolulu and the National Cancer Institute.

He was associated with holistic healing programs at North Hawai'i Hospital, where complementary medicine is encouraged for patients who want to have spiritual and cultural healing techniques used in addition to Western treatment.

He gained his nickname as the father of 18 and grandfather and great-grandfather of 265 and had two careers. He was a heavy equipment operator for the Army and later served as superintendent of heavy equipment at K¬lani Prison on the Big Island. He traced his healing skills to being trained from the age of 7 by a great-great grandmother, Kapua Pai, who lived beyond 100 at Kawaihae.

Auwae never charged for his advice or his herbs, admirers said, because Pai instructed him to share with everyone.

Auwae was born in Kokoiki, North Kohala, on Feb. 1, 1906.

He is survived by seven sons, Ronald of Waikoloa; Henry of Sacramento, Calif.; Mark of Freeport, Texas; Allen of Portland, Ore.; Duane of Hilo; Anthony of Montana; and Charles of Waikoloa. He is also survived by 11 daughters, Leilani Balai, Charlotte Keo and Celestine Aquino of O'ahu, and Maile Mauhili, Marie "Nani" Higashida, Henrietta Miranda, Norma Kema, Mercy Keopuhiwa, Jewellyn Mary Leialoha, Rae Lee Awai and Julia Auwae, all of Hilo. A sister, Abby Waggoner, lives in San Diego.

Friends may call 5 to 9 p.m. Sunday and 8 to 10 a.m. Monday at Dodo Mortuary in Hilo. A prayer service will be at 10 a.m. Monday in the mortuary. Burial will be at Homelani Memorial Park. Casual attire.