Bromeliad guide has tips for growing your own
By Mike Leidemann
Advertiser Staff Writer
Bob Okazaki didn't start growing bromeliads until he was well into his 60s. He wanted to do something in retirement besides drinking beer, he says.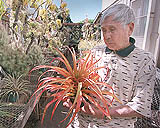 Bob Okazaki says chose bromeliads because they are so easy to grow. "Water is the only thing they really need."

Eugene Tanner • The Honolulu Advertiser

Okazaki, 90, still likes a beer now and then. But first he spends each morning in his Kaimuki yard, tending the thousands of bromeliads that have become the passion of his life.

Cascading down a small hillside, there are aechmeas, cryptanthus, tillandsias, neoregelias — hundreds of varieties in all.

"I know the names, but they're not really important," Okazaki says.

Under a homemade nursery built from 2-by-4s and black shade cloth, Okazaki's yard is like a science fiction wonderland.

Most of the plants thrive without soil or much care. Many dangle contentedly in the air from wire hooks; thousands of others sit soil-less in plastic crates. A few of the largest ones are in medium-sized pots on the ground.

Hardly any of the plants have large or striking flowers, but there's no denying the strange beauty that fills the yard.

"When I bring people over to see this, all you hear them say is oooh, aaah, or wow," says Dorothy Hazard, who is helping Okazaki write a book about his life.

Okazaki takes a more down-to-earth view of things.

"It's just something I decided to do," he says. "When I retired back in 1972, I was drinking all the time and figured I needed something to else to do. This is it."
People think he's been growing plants forever. The truth is Okazaki never had time to think about bromeliads or much else during his first 65 years. He was too busy leading a dozen different lives.
"It's quite a story," Hazard said. "Wait till you hear it."
Born in a plantation camp at Hanamaulu, Kauai (his birthday is 10/10/10) , Okazaki was the ninth of 10 children. He grew up in a house without refrigeration or electricity. His parents never learned to speak English.
By the time he was 12, he was working during school vacations for 25 cents a day, hoeing weeds along the troughs of newly planted sugar-cane cuttings. A few years later, he quit school and got a full-time job at an agricultural station on Kaua'i, earning 75 cents a day, which he turned over to his now-widowed mother.
At 19, he joined the Merchant Marine and shipped out, hauling sugar to the Pacific Northwest and bringing lumber back to Hawai'i. Over time, he survived a ship's collision along the Columbia River, 30-foot seas and a tidal wave in Alaska.
During trips back to the Islands, he worked as a blacksmith, a quarry helper in Manoa, a manual laborer, a tunnel digger, a jackhammer operator and a camp cook for the Civilian Conservation Corps at Koke'e — "wherever the work was."
Stranded in Seattle at the start of the Great Depression in 1929, Okazaki survived by waiting for food in bread lines. He was befriended there by some Hawaiian fishermen, who shared their rice with him. Next he became a migrant worker, picking hops and apples in Washington state with teams of Filipinos who drove him around the state at night. He got paid 2 cents a pound.
"The worst jobs make the best friends," he says.
Okazaki was working as a welder for a dredging project at Pearl Harbor when the Japanese warplanes struck on Dec. 7, 1941. The first wave of planes began their strafing as soon as they passed his dredge. Okazaki watched in horror later in the day as U.S. military men rounded up other Japanese Americans and marched them away at gunpoint. Since his welding skills were needed, he was soon employed again, although he spent the rest of the war working "the worst jobs" at Pearl Harbor under armed guard.
"At least I didn't have to go to a relocation camp," he says.
A first marriage, arranged by his parents, ended in a matter of weeks, but during the war he met and fell in love with Shizuko Uchima, a beautiful Honolulu office worker. They got married a few months later and had a daughter, Martha-Ann, whom Okazaki lives with today. Shizuko died five years ago.
Even though he now had a family and owned a house in Honolulu, Okazaki wasn't ready to settle down. By 1955, at age 45, he got restless and moved his family to the Mainland. He worked briefly in a factory in Chicago, then moved to Seattle, where he did pipe welding for a sawmill, paper mill, factory sites, a gas pipeline at Port Angeles, even on a new plane for Boeing.
Finally, he moved to Alaska, where he worked for 17 years, on and off, helping to build the Alaska pipeline. By now, he was sometimes earning as much as $2,000 a week.
In 1972, he decided it was time to retire back to Honolulu and turn to horticulture.
He chose bromeliads, he says, because they are so easy to grow.
"Water is the only thing they really need," he says.
Okazaki admits he's learned a few tricks over the last 25 years: Most bromeliad varieties respond well to an occasional bit of orchid fertilizer, and if you want to encourage new growth, you need a screwdriver. "You just take the screwdriver right down into the middle of the plant and start twisting," he says. "That will stop the growth in the old plant but force it to start shooting out keiki from the side."
It's a popular myth that bromeliads breed mosquitoes, he says. If you water the tops of the plants at least once a week, the fresh water will keep the mosquitoes at bay.
These days, Okazaki spends the morning out in the yard, using his screwdriver to promote the growth of ever more bromeliads and fashioning works of living art, using a hot glue gun to attach the air plants to decorative cork wood he buys from Portugal and Mexico.
"The trick is putting them in the right place," he says. "You can't explain to anyone else how to do it. It's all about how you feel."
When the day's work is done, he settles back in a well-worn lanai chair, sips a beer, and contemplates his thousands of bromeliads and a lifetime of living.
"I'm an old man now," he says. "It's all I do."