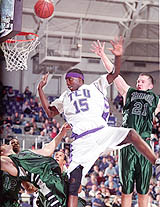 Texas Christian's Derrick Davenport, center, flattened Hawai'i's Predrag Savovic and was called for an offensive foul in last night's Western Athletic Conference game in Fort Worth, Texas. Trailing the play is UH's Mindaugas Burneika.

Associated Press
Road Warriors get WAC'd
Relying on a relentless defense and uncanny 3-point shooting, Texas Christian routed Hawai'i, 103-64, in the Western Athletic Conference men's basketball opener for both teams.

Cornhuskers' Raiola will enter NFL draft
Dominic Raiola, Nebraska's two-time All-America junior center out of St. Louis School, yesterday said he will forego his senior season to make himself eligible for the April NFL draft.

UH-Hilo names first woman athletic director
A former director of athletics at Gannon University in Erie, Pa., has been chosen as the first woman to head the University of Hawai'i-Hilo athletic department.