By Katherine Nichols
Advertiser Staff Writer
Some kama'aina may be skeptical, but a little bit of Hawaiian culture is finding its way into Waikiki, not known in recent years for the authenticity of its cultural experiences.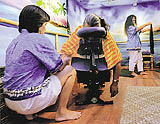 Ka'uhane Lee gives lomilomi shop co-owner Moe Keale a massage. Maile Lee, Ka'uhane's sister, also gives massages.

Deborah Booker • The Honolulu Advertiser

It's right on Kalakaua, at the Lomi Shop's Keiki Wa'a, a store at the Hyatt Regency Waikiki Resort and Spa. (Keiki wa'a means "small canoe," a reference to the fact that the "big canoe" is the original store at Windward Mall.)

"We want to bring healing to Waikiki through the healing art of lomilomi," said Ka'¬hane Lee, a Native Hawaiian practitioner and store owner. "Local people come in here and cry. They say it's the best thing they've seen in Waikiki in years. Right there, we know we're on the right track."

Maile Lee, a kumu hula and sister of Ka'¬hane, said that she believes they were led to Waikiki for a higher purpose. "I think we're here for the tourists to see the culture in Waikiki, but we're also trying to get local people to look past all of (the buildings and hotels) and remember that this is where our kings and queens lived. We want to show them it can work."

The tiny shop, which officially opens Jan. 27, is now in its "soft opening." Hawaiian music and incense fill the air, blending with the sweet aroma of Tahitian soaps, and soft lighting bathes the fluffy reclining chairs where people can enjoy 10- or 20-minute foot lomi massages or seated neck and shoulder lomi massages.

In addition to CDs of Hawaiian and Tahitian music and books about Polynesian tattoos, they sell such products as Tahitian noni, and Hiti Tau, the pure monoi (coconut) oil "made by the mamas on Moorea," explained Lee, who is of Hawaiian, Chinese and Tahitian ancestry.

The most dramatic element of the shop is a wall covered with a mural depicting a double-hulled sailing canoe traveling across the high seas. Muralist Ron Artist composed the picture by listening to Lee describe the vision that came to her in a dream.

She and Artist also created a mural for the original Lomi Shop at Windward Mall, where the "mama wa'a" resides. Both stores evoke the feeling of walking on board a boat for a journey. Lee believes the canoe serves as a powerful symbol of each visitor's voyage toward health and wellness — physically and spiritually.

And in Waikiki, the odyssey could be far-reaching.

Lee, who dislikes the title "owner," simply calls herself the navigator. She refers to her partner, entertainer Moe Keale, as the sailing canoe captain. Together, their mission is to bring a spirit of aloha to Waikiki.

And they think that lomilomi is the perfect conduit because it transcends the physical. "Aloha is akua, and that is a higher power, whatever that means for each individual," said Lee. "It's an unconditional love, extended to anyone."

The time has come, she said, for Waikiki "to huli, to turn. We natives do not want tourist culture, and the tourists do not want it either."

Paul Tang, general manager of the Hyatt Regency Waikiki Resort and Spa, hosted cultural training for his employees before opening the hotel's new spa, Na H¯'ola, which works in conjunction with the Lomi Shop's Keiki Wa'a. "I fully support the revitalization of Waikiki," said Tang. "The mayor and the city have worked to restore culture. There's a commitment to creating green space, to bringing back Hawaiian music and hula. A lot of details can be put in to make this a Hawaiian experience rather than a hotel experience. And there's a big difference."

Keale agreed. The shop "is important because people come in contact with real Hawaiians, and I think that's very special," said the musician, who also entertains at the Sheraton Waikiki Hotel. "We want to make sure that when people leave, they leave with a good impression."

Said Ka'¬hane Lee: "We don't sell our aloha. It's free. And it's to be shared in a way that is pono (righteous or correct)." She sees this expedition as part of something much bigger. "Going back to Waikiki is helping to heal old wounds. It's no coincidence that we're here. It's meant to be. It's full circle. This place here is very sacred, and we need to bring that back."

The voyage has begun.