By Dayton Morinaga
Advertiser Staff Writer
FORT WORTH, Texas — The Hawai'i men's basketball team found out the hard way that everything is, indeed, big in Texas.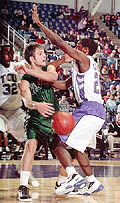 Hawai'i's Predrag Savovic, center, had trouble passing the ball as TCU's Ryan Carroll, right, and Myron Anthony apply full-court pressure. TCU forced 22 Hawai'i turnovers.

Associated Press

Even the blowouts.

Relying on a relentless defense and uncanny 3-point shooting, Texas Christian routed the Rainbows, 103-64, in the Western Athletic Conference opener for both teams last night at the Daniel-Meyer Coliseum. It was the second-worst loss in Hawai'i's 22-year WAC history, topped only by a 42-point loss at TCU three years ago.

"I don't know what to say," Hawai'i senior co-captain Nerijus Puida said softly after the game. "I can't explain what happened.

"The last 10 minutes, I was watching the clock and I asked God to make it go faster. It hurt so bad."

The Horned Frogs took turns punishing the Rainbows in the second half. Seven different TCU players scored in double-figures, led by Ryan Carroll's 21. By the time guard Nucleus Smith — a starter still in the game with less than two minutes remaining — threw down a highlight-reel reverse dunk, TCU reached 100 points and was ahead by 41 with 1:10 remaining.

Four points by Puida in the final 38 seconds prevented it from becoming Hawai'i's worst WAC loss. Hawai'i fell to 6-6 overall; TCU improved to 11-3 with its 13th consecutive home victory.

"It's embarrassing the way we played basketball, especially in that second half," Hawai'i coach Riley Wallace said. "We just didn't compete."

As incredulous as it might sound, the Rainbows actually stayed with TCU for the first 15 minutes of the game.

"I thought Hawai'i did a great job against our defense in the first 10 minutes," TCU coach Billy Tubbs said. "They were the aggressor."

The Rainbows created holes in TCU's vaunted full-court pressure defense early in the game, and raced to a 16-10 lead with several baskets coming on wide-open layups behind Horned Frog defenders.

Freshman forward Phil Martin was the primary benefactor, scoring 11 of his team-high 16 points in the first half.

"I thought we were ready to play," Wallace said. "We did the things we had to do early on: we beat the press and didn't turn the ball over."

However, that forced TCU to take a slower — and more successful — half-court approach. In particular, 6-foot-10 center Derrick Davenport was a force in the low-post, scoring 10 of his 15 points in the first half.

Equally important, Davenport was able to force Hawai'i's two best low-post players, Troy Ostler and Martin, to the bench with three and two fouls, respectively, for the final four minutes of the first half. During that stretch, the Horned Frogs out-scored the Rainbows 17-4 to take a controlling 42-30 lead at halftime.

"They dominated the inside game on both ends," Wallace said.

Davenport also had six rebounds as TCU won the battle of the boards, 44-36. Myron Anthony, a 6-7, 230-pound forward, added 14 points and a game-high 11 rebounds.

With the 6-10 Ostler still limping on a sprained left ankle — he finished with four points and one rebound in nine minutes — TCU's low-post dominance might have been expected.

What turned the game into a blowout was the Horned Frogs sharpshooting from long-range.

In particular, TCU opened the second half by hitting its first five 3-point attempts, including two each by Carroll and Greedy Daniels. Less than five minutes into the second half, TCU increased its lead to an insurmountable 60-38.

"We didn't run anything tricky in the second half," Tubbs said. "We were really very basic, and it paid off."

The Horned Frogs finished 12-of-17 from 3-point range, including 8-of-9 in the second half. By comparison, Hawai'i shot just 37 percent from the field (22-of-60), including 4-of-17 from 3-point range.

Predrag Savovic added 13 points for Hawai'i before fouling out with more than nine minutes to go. Puida contributed 11 points and eight rebounds, though most of it came in the humiliating final 10 minutes.

"We did a horrible job on both ends," Puida said. "It was the worst game I've played in in my two years here."

The Rainbows will not have much time to recover. They play at Southern Methodist, which won its WAC opener last night, tomorrow at Dallas.
NOTES: As far as Hawai'i is concerned, TCU couldn't be leaving the WAC soon enough. The Rainbows are 0-6 all-time against the Horned Frogs in Daniel-Meyer Coliseum. TCU will join Conference USA next season. ... Junior Mike McIntyre, normally the first guard off Hawai'i's bench, did not play for the second consecutive game because of a sprained left ankle. ... The Horned Frogs are 52-1 since 1994 when scoring more than 100 points, including 8-0 this season.