By Kyle Sakamoto
Advertiser Staff Writer
The basketball coaches of the Interscholastic League of Honolulu's top teams are in agreement: 'Iolani is the team to beat.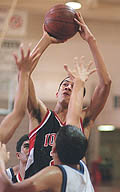 Bobby Nash, shown taking a shot over a Kailua defender during a preseason game, is part of an 'Iolani team that is favored to win the ILH.

Jeff Widener • The Honolulu Advertiser

Freshman guard Derrick Low (6-foot) and sophomore center Bobby Nash (6-7) lead a young, talented and deep Raiders team. Low scored 11 points and Nash 10 in 'Iolani's 40-39 loss to then-No. 8 De La Salle (Concord, Calif.) on Dec. 20.

The next day, Bobby Webster scored 13 points, Low added 12 and Nash 10 as 'Iolani defeated Crossroads (Santa Monica, Calif.), 53-49. It was the lone victory in 11 games by a local high school over a Mainland school during the tournament.

"Derrick is in his first year and the amount of maturity he's shown since his first (varsity) game a month ago is night and day," 'Iolani coach Mark Mugiishi said. "He knows the things he did against younger kids and at the park aren't going to work against well-coached teams.

"Bobby's a very talented player. We've been getting him to rebound a little more and he's playing better defense." Nash is the son of University of Hawai'i associated head coach Bob Nash.

Punahou coach Alan Lum is already a believer in the talented pair.

" 'Iolani has two young nationally ranked players," he said. "They're the real deal. Their rankings are not padded. They play well beyond their ages."

The league's coaches feel the Raiders' supporting cast is also very impressive.

" 'Iolani has tremendous depth," said Kamehameha first-year coach Micah Kroeger. "They have guys coming off the bench that would start for other teams."

Being picked as the league's top team was no surprise to Mugiishi.

"I kind of expected it because we had a good preseason," he said. "But we still have to go out there and play the game. Games are not decided on perception. They're decided on performance."

Kamehameha, St. Louis and Punahou should also be in contention for the league's three berths in the state tournament.

The Warriors will be led by Kolo Kapanui (6-3, senior, forward) and Nainoa Spencer (6-2, senior, guard).

"(Kapanui) is a feared post player and he can step outside and shoot," Lum said.

St. Louis, defending ILH champion and state runner-up last season, will be led by a trio of players who were members of the school's football team. Enoch McKeague (5-9, senior, guard), Jason Rivers (6-2, sophomore, guard), and his brother Frank Rivers (6-4, senior, center) are all good defensive players, according to Crusaders coach Delbert Tengan. He said McKeague will provide leadership, ball-handling skills and outside shooting, and Frank Rivers will be an intimidating presence in the low post.

Punahou will be led by Lucas Love (6-0, senior, guard/forward) and Dane Uperesa (6-5, junior, center). Lum said the Buffanblu don't have any stars, so they'll have to out-work and out-scrap other teams.

Damien, Maryknoll and first-year Division I member Mid-Pacific round out the ILH field. University High dropped to the Division II level.