Associated Press

DETROIT — Looking to snare young, first-time car buyers, Toyota yesterday unveiled its Matrix as the planned newcomer to a crowded segment blurring the lines between cars and sport utility vehicles.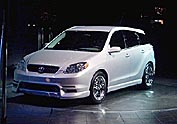 Toyota unveiled its Matrix vehicle at the North American International Auto Show in Detroit yesterday. The automaker says it is trying to attract the youth market.

Associated Press

"This is mainly an attempt to get the youth market back in the Toyota brand," Jim Press, Toyota Motor Sales USA's executive vice president and chief operating officer, said after showing off a Matrix prototype during the North American International Auto Show.

With the look of a stretched, tall hatchback, the Matrix is scheduled for production early next year and will be aimed at consumers in their 20s. Press said the Matrix's selling price has not been decided.

The Matrix will use a platform similar to that of a Corolla while sharing parts with the Pontiac Vibe, another crossover unveiled by General Motors Corp. this month in Los Angeles.

Expected to be built alongside Corollas in Cambridge, Ontario, the Matrix will be available in front- or rear-wheel drive. Basic models will have 130-horsepower engines; sports models a 180-horsepower one with a six-speed manual transmission found in the Celica GTS.

Volkswagen, having successfully tapped nostalgia by bringing back the Beetle a couple years ago, did it again yesterday, showing off a concept version of its Microbus, called the Transporter when it debuted 50 years ago and, in its most recent incarnation, the Eurovan.

Curved where the original Microbus and Eurovan are sharp-edged, the California-designed concept Microbus is replete with high-tech gadgetry and retains one styling cue from the 1950s and '60s — a snub nose that prominently features the VW badge.

VW board member Jens Neumann said the automaker "felt the desire to reinspire the Microbus soul, to revitalize the spirit of space and adventure for nonconformist people — Volkswagen people."

Whether the Microbus is built, and whether it could rekindle Baby Boomer nostalgia as VW sought to do two years ago with the New Beetle, remains to be seen.

In the meantime, VW is hoping it can find enough "nonconformist people" to expand its North American sales by 5 to 10 percent a year, "depending on market conditions," Neumann said.

Volkswagen took the wraps off its redesigned Passat sedan and a station wagon version of its Jetta, billed by VW as the top-selling European nameplate in the U.S. last year.

DaimlerChrysler made a surprise announcement by unveiling a prototype for the 2003 Dodge Viper RT/10. DaimlerChrysler executives promised that the next Viper would be a study in sports car excess, with about 500 horsepower out of a roughly 500-cubic-inch V-10 engine.

The automaker said it could sell up to 3,000 copies of the new Viper a year at slightly more than the $60,000 sticker price for the current model.

Mercedes-Benz introduced three new production models: the C320 wagon, adapted from its C-Class sedan and new to the U.S. market; the high-performance C32 AMG sedan; and the SLK32 AMG compact roadster. Mercedes-Benz also displayed a U.S. version of its C-Class two-door sports coupe costing less than $30,000 and aimed at the entry-level luxury market. It goes on sale this summer.

BMW unveiled its M3 four-seat convertible; a high-performance version of its X5 "sports activity vehicle"; a beefed-up version of its M3 coupe.