By Wayne Harada
Advertiser Entertainment Editor
That kadomatsu you acquired for your New Year's good luck tradition should be properly disposed of this week.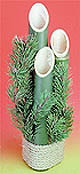 The New Year's kadomatsu isn't meant as a permanent decoration.

Advertiser library photo

So says Daiya Amano of the Izumo Taishakyo Mission on Kukui Street.

And burning the ornamental "gate pine" is the ideal way to dispose of it, said Amano.

"Traditionally, the kadomatsu is used to (welcome) the New Year god, who comes to visit every house. After New Year, his work is done," said Amano.

Ann Asakura, executive director of Temari, the Center for Asian and Pacific Arts in Pal¯l¯, agrees that one shouldn't keep the kadomatsu beyond its intended use. Temari annually creates and sells hundreds of kadomatsu.

"It's only a temporary abode for the toshigami (god)," said Asakura. "Now you must let him go back."

What you shouldn't do is use the sturdy bamboo as a pencil holder or vase.

"Some people tell us they'd like to spray it green and recycle," said Asakura. "Talk about bachi (bad luck)."

Amano said folks often bring their small domestic kadomatsu — comprised of three bamboo cuttings, pine and cording — to their otera (temple) for collective disposal. "You can bring your small ones — but not the large ones," said Amano.

And if burning at home may create hardship or danger, particularly for apartment dwellers, Amano said it's perfectly okay to dispose of it the modern and acceptable way, by placing the kadomatsu in a plastic bag, sprinkling it with salt, and securely closing the bag for disposal into your garbage bin.

"That's not the tradition but it's OK," said Amano. The gods will understand.

But the time to do it is now.

"You don't keep it around the house forever," said Asakura. "The cycle has to be finished; and disposal is part of the cycle."