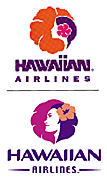 Hawaiian Air unveiled its new logo, bottom, yesterday. Chief executive Paul Casey said changes to the logo are subtle but reflect the changes in the company. See story.
Coming Events
Isle lender GE Capital laying off about 100
GE Capital Hawaii, which has financed everything from cars to shopping malls, notified state officials yesterday that it plans to shut down most of its operations in Hawai'i and Guam and lay off dozens of employees.

Hilo Hattie president leaving for job with travel company
Chris Resich, the president of Hilo Hattie who oversaw a doubling of business at the Isle retailer in five years, is leaving to become partner and president of Honolulu-based travel destination management company MC&A.

Kaka'ako tech plans approved
Plans to turn Kaka'ako into a technology center took two steps forward yesterday as the area's development board approved, in concept, proposals by UH and Adtech Inc. to build major facilities near Kewalo Basin.