By Wayne Harada
Advertiser Entertainment Editor
"Spirit of the Dance — the New Millennium," one of a number of successful Ireland-originated shows touring the country now, will make its Island debut March 13 through 18 at the Hawai'i Theatre.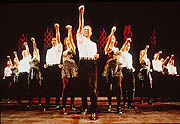 Ireland's "Spirit of the Dance" ensemble combines the precision of a drill team and the grace of dance.

Photo courtsey "Spirit of the Dance"

Coinciding with St. Patrick's Day, March 17, the show brings the spirit of Ireland to the concert stage, featuring the Irish International Dance Company in a burst of their traditional culture laced with flamenco, classical ballet, salsa and jazz.

"Spirit of the Dance" recalls "Lord of the Dance," the Celtic sensation that similarly combines traditional artistry with theatrical flourish.

The show was created, produced and directed by David King, an English composer.

A total of eight performances will be staged, as follows: at 7:30 p.m. March 13, 14 and 15; 8 p.m. March 16; 2 and 8 p.m. March 17; and 2 and 7 p.m. March 18.

Tickets: $25-$45, on sale beginning Tuesday at the box office and Ticket Plus outlets; 10 percent discount available for group sales of 20 or more.

Regular reservations: 528-0506 (box office) or 526-4400 (Ticket Plus).

Group sales: 732-7733.

In addition to the Honolulu performances, the company will also perform March 21 through 25 at the Maui Arts and Cultural Center in Kahului. Tickets: (808) 242-SHOW.