By Suzanne Roig
Advertiser East Honolulu Bureau
East Honolulu residents are girding for gridlock — again.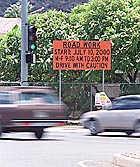 Kalaniana'ole Highway has seen its share of roadwork, and next month another major project is slated to begin. Water mains are to be replaced.

Advertiser library photo • July 8, 2000

Work is to start next month on a two-year project to replace water mains along a short stretch of Kalaniana'ole Highway from the end of the freeway to West Hind Drive.

With memories of several years of hour-and-a-half delays during the widening of Kalaniana'ole still fresh in commuters' minds from five years ago, state transportation officials have been considering doing the work at night, and they're seeking feedback from residents.

It is estimated that night work would keep delays down to about 15 minutes, though the idea raises concerns about noise for some residents whose homes who as close as 6 feet from the highway.

While night work would mean no delays during peak traffic, it would not reduce the time needed to replace the water mains, repave the road and improve sidewalks, said Marilyn Kali, state transportation spokeswoman.

"The crews can't work any faster day or night," Kali said. "The big issue will be the traffic."

An estimated 2,400 cars travel along Kalaniana'ole Highway each hour during the day, compared with an average of 600 an hour at night, according to transportation officials.

The $6 million project had been scheduled to begin last July, but just days before work was to start, city and state officials decided to wait until most of the continuing night work on the H-1 Freeway was completed.

Following the water main work, which is expected to take about 13 months, state contractors will repave the highway, install new guard rails and do some work on sidewalks to make them accessible to the disabled, Kali said. Much of that work can be done at night.

"Pipe work is noisy," she said. "The noise will be from the pounding and digging and scraping."

For residents, the thought of two years of construction on the only road into and out of East Honolulu provokes high anxiety.

Many still recall how it took as much as an hour to go from Lunalilo Home Road in Hawai'i Kai to Niu Valley Shopping Center — less than two miles — during the four-year widening project that ended five years ago. Then, townbound traffic was funneled from two lanes into one.

This time, there will be two lanes open in each direction during any daytime construction, Kali said.

Some residents still aren't sold on night work.

"It's going to be very noisy if they work at night," said Linda Starr, a member of the Kuli'ou'ou-Kalani Iki Neighborhood Board. "Maybe they should work longer hours and six days a week. I heard the night work won't save time, and it will add to the cost and it will introduce safety concerns."