By James Gonser
Advertiser Central Bureau
'EWA — No matter how the 'Ewa Neighborhood Board votes on night use of Geiger Park at its monthly meeting today, some people will walk away unhappy, according to board chairwoman Mary Miyashiro.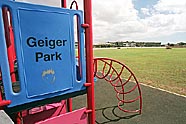 'Ewa's Geiger Park, shown here with a view of surrounding homes, is the center of a debate that pits the desire of some residents to keep the park open nights against those who feel the nighttime hours are an invitation to vandals. The 'Ewa Neighborhood Board will vote tonight on whether to keep the park open nights or close it.

Bruce Asato • The Honolulu Advertiser

"It will be a lively debate," Miyashiro said. "People feel strongly both ways."

Proponents of closing the 10-acre park between 10 p.m. and 5 a.m. say there are many noise and vandalism incidents at night and police cannot chase out violators because the park is legally open.

Opponents of the closure say the park should remain open for public use at all hours and closing it will not prevent crime.

Miyashiro said board members voted against closing the park located off Kapolei Parkway in April 2000 because they wanted the entire community notified about the closure request. That has happened, she said, and the board will vote today.

City Parks Director Bill Balfour will attend the meeting and has said he will close the park if that is what the community and the board want, Miyashiro said.

Meeting tonight
Who: 'Ewa Neighborhood Board.
What: Will decide whether to close Geiger Park nights.
When: 7 p.m. today.
Where: 'Ewa Beach Community and School Library, 91-950 North Road.

Tonee Grace Fuller, area Neighborhood Security Watch coordinator, sent a letter to the board stating that watch members have called police several times after seeing illegal late-night activities including noisy groups drinking alcohol and vandalizing playground equipment. She said they also have found used condoms in the play area.

The city vision team has earmarked $340,000 for improvements to Geiger Park this year and plans to build a comfort station, ball fields, play courts and parking that complies with the American With Disabilities Act.

Suzanne Alawa, general manager of the 'Ewa By Gentry board of directors, said the park is surrounded by 4,800 Gentry homes and she also would like the park closed at night for safety reasons.

Alawa said just last month the portable chemical toilet the board had placed in the park at its expense was burned down by vandals.

Miyashiro said she checked with police and there has been only one 911 call about nighttime problems at the park in the past three months.

"There are some people that jog at 3 a.m. and if the park is closed the police can ask them to leave," Miyashiro said. "Police can ask people to leave now if they are breaking the law. No alcohol is allowed. If they are making loud noise after 10 p.m., that is covered by the nuisance law. If it is closed, police officers are not going to sit and monitor the park. People will still have to call 911 to report crimes."

Alawa said if the park is closed, police can make occasional checks and tell people to leave, not having to wait until a call is made.

"We are seeing a lot of mischief going on at hours when it isn't feasible to use the park," said Alawa. "There is no lighting, no facilities, no anything. People just go out there and smoke their weed or what have you. If it were closed, HPD could go in and move them out."

Alawa said no one wants to hamper legitimate use of the park, but a safe park for the growing community is essential.