By Stephen Tsai
Advertiser Staff Writer
Playing with a sore right arm, outside hitter Costas Theocharidis put the hurt on Lewis of Illinois, powering Hawai'i to a 26-30, 30-21, 30-21, 30-27 men's volleyball victory last night at the Stan Sheriff Center.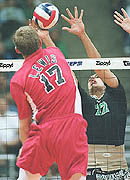 Hawai'i's Torry Tukuafu gets a hand on a ball hit by Lewis' James Elsea during the first game.

Cory Lum • The Honolulu Advertiser

A crowd of 3,232 saw Theocharidis put down 17 kills and hit .517 in the season-opening match for both teams, played under the NCAA's new rally-scoring system.

"He was hot the whole match," setter Kimo Tuyay said of Theocharidis. "When you have a hot hitter, you have to feed him."

Theocharidis' availability was in question after suffering tendinitis in his right elbow, biceps and shoulder — apparently from playing too much tennis during the holidays. He did not practice this week.

But three hours before the match, teammate Eyal Zimet gave Theocharidis a special ointment.

"It's magic medicine," Zimet said.

When asked about the ingredients, Zimet smiled and said, "That's a secret. Apparently, it helped."

"I think it's an Israeli ointment," Theocharidis suggested. "It really burns, a deep burn."

Early in the match, Theocharidis said, he played tentatively.

"I had a phobia it might start to hurt," he said. "I didn't feel comfortable. But it was OK after a while."

At first, the Warriors attacked from the middle, relying on the strong play of middle blockers Dejan Miladinovic and Brenton Davis. Then they went to their left-handed offense, turning to the suddenly confident Theocharidis on the outside.

Tuyay, an 18-year-old freshman playing his first collegiate match, and the sophomore Theocharidis were an in-sync duo. Tuyay said Theocharidis demands "the perfect set" — quick and high. With a 36-inch vertical leap, Theocharidis is comfortable chasing the set, then applying a hammer swing.

"I wasn't going to go to him too much because he was supposed to be hurt," said Tuyay, who amassed 49 assists. "But as the game went on, I couldn't go away from him. He was too hot."

Said Zimet: "Costas is Costas. He'll come every night and give you his best."

Overall, the Warriors did not have their "A" game, UH coach Mike Wilton said. Some of their passes were sloppy, and they often were fooled by the Flyers' soft shots over their block.

After the first game, the Flyers abandoned their powerful jump serves, instead going with floaters, putting their trust in their defense.

"We didn't get any aces, but we got (UH to make) some bad passes," Lewis coach Dave Deuser said.

Still, that was not enough — not against the Warriors' tough block and ferocious serves. UH had eight aces. Theocharidis served four UH points in the fourth game.

"Any time your team doesn't bring its 'A' game and it finds a way to win, you have to like that," Wilton said. "That shows some resourcefulness."

Said Theocharidis: "We played, like, 70 percent. The thing is, it was the first (match) in front of a crowd. We were kind of stressed out. But we came back. That's the most important thing. We came back and won pretty easily."

The teams meet tomorrow. The first serve is at 7 p.m.
Hawai'i Men's Volleyball 2001 Schedule
January
Tomorrow-LEWIS, 7 p.m. 17-19-OUTRIGGER HOTELS INVITATIONAL (17-UCLA vs. Laval, 4:30 p.m.; Hawai'i vs. Penn State, 7 p.m. 18-UCLA vs. Penn State, 4:30 p.m.; Hawai'i vs. Laval, 7 p.m. 19-Penn State vs. Laval, 4:30 p.m.; Hawai'i vs. UCLA, 7 p.m.) 25-PACIFIC*, 7 p.m. 27-PACIFIC*, 7 p.m. 31-UC SANTA BARBARA*, 7 p.m.
February
2-UC SANTA BARBARA*, 7 p.m. 8-CAL STATE NORTHRIDGE*, 7 p.m. 10-CAL STATE NORTHRIDGE*, 7 p.m. 13-at UC San Diego*. 15-at Long Beach State*.
March
2-STANFORD*, 7 p.m. 3-STANFORD*, 7 p.m. 9-PEPPERDINE*, 7 p.m. 10-PEPPERDINE*, 7 p.m. 16-SOUTHERN CALIFORNIA*, 7 p.m. 17-CALIFORNIA**, 7 p.m. 23-ARIZONA**, 7 p.m. 24-ARIZONA**, 7 p.m. 28-at UC Irvine*. 29-at UCLA*. 30-at UCLA*. 31-at UC Irvine.
April
6-ALBERTA**, 7 p.m. 7-ALBERTA**, 7 p.m. 13-at Brigham Young*. 14-at Brigham Young*. 21, 26, 28-Mountain Pacific Sports Federation Playoffs.
May
3, 5-NCAA semifinals, championship at Long Beach, Calif.
All home matches (in caps) at the Stan Sheriff Center
*Mountain Pacific Sports Federation match
**Exhibition match