Today's tee times


By Ann Miller
Advertiser Staff Writer
KAPALUA, Maui — Before his generation has defined itself, Tiger Woods is a golf legend. The legend is back at the site of one of his many legendary finishes, his bleached-blond hair shaved off, but his extraordinary talent intact.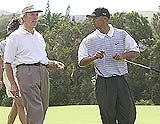 Clint Eastwood was paired with Tiger Woods in yesterday's pro-am.

Gregory Yamamoto • The Honolulu Advertiser

A year ago, as the sun went down over the Moloka'i channel, Woods whacked in a 40-foot birdie putt on the second sudden-death hole to win the Mercedes Championships. This came minutes after he and Ernie Els both eagled the Plantation Course's final hole to force a playoff.

"Going into the first extra hole, we were starting to really enjoy ourselves," Els recalled. "We were really trying to win it, we knew exactly where we stood with each other. I think we both knew that we played as good as we possibly could. Whoever won from there on, it was kind of a bonus because we already had our fun."

Woods' fun endured unabated through a year that some say was the best in the history of the sport. The man who turned 25 less than two weeks ago has been No. 1 in the world rankings nearly 18 months, and every golfer is at least half a planet away from catching him.

Els said yesterday that it might have been different if he had won here a year ago, in a season-opening tournament where the champion has never finished out of the top six on the money list at the end of the year.

"Who knows?" Els asked no one in particular. "From here on, Tiger was just very dominant. He got stronger and stronger as the year went by."

Woods' win here was the fifth of six consecutive victories.

No one had done that in 52 years. With three major victories, he became the youngest owner of a career grand slam, and his nine tour wins was the most in 50 years.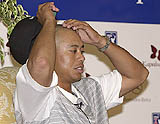 Woods gave the media a brief glimpse of his newly shaved head.

Gregory Yamamoto • The Honolulu Advertiser

Woods set records the way most people brush teeth, and put an imprint on the game that possibly only he can erase. And everyone out here, including the world's No. 2 (Els), 3 (Phil Mickelson) and 4 (David Duval) know it.

The most compelling question now is what are they, and Woods, going to do about it?

Woods, who improved his game in nearly every major statistical category last year, spoke for himself before teeing off last in today's first round.

"Just try to get better," he said with no hesitation. "Each and every year I've played golf, I've become better. That's something I've always said, and something I'm always going to try to do.

"Sometimes it doesn't equate to wins. ... Wins will come when you improve."

The thought of Woods improving is mind-blowing. Golf's first $20 million man finished among the top five in all but three of his 21 starts last year and collected 63 percent of the total purse in those events. His scoring average was nearly 11/2 strokes better than anyone, which makes sense considering his winning margin was more than five shots a tournament.

His dominance was devastating, and some don't see it ending anytime soon.

Mickelson said yesterday that he believes dramatic improvements in equipment will provide more challengers and decimate tournament records this year. Duval, who set the tournament record here two years ago, bluntly disagreed.

"The new balls were out last year, and so was the equipment," he said. "Only person that broke records was Tiger."

Those records often came at Els' expense. Last summer, after finishing second to Woods four times — including two majors — he spoke of having to "change his mindset." He looked to other athletes — Michael Jordan and some of his favorite cricket and rugby players in South Africa — to study their psyches.

And he went back to that wondrous day a year ago when he couldn't catch the Tiger.

"Who knows?" he said again, to no one in particular. "The guy that wins here this week might have the same kind of flow that comes his way. It could be very important."

Or it could just be Tiger.

SHORT PUTTS: Organizers announced this week that the purse for this year's Mercedes Championships had been increased from $3.2 million to $3.5 million. The winner gets $630,000 and a 2001 Mercedes-Benz SL500 Sport. ... The 2000 Mercedes Championships set a golf ratings record for ESPN. Sunday's broadcast drew a 3.5 rating (2.7 million households). The four-day total was 6.3 million. ... The Sony Open in Hawai'i commitment list won't be finalized until Friday, but Tiger Woods, David Duval and Phil Mickelson yesterday said they would not play in the tournament, which starts next week.
Today's tee times
10:10 a.m.-Mike Weir. 10:20-Duffy Waldorf, Steve Lowrey. 10:30-Billy Andrade, John Huston. 10:40-David Duval, David Toms. 10:50-Chris DiMarco, Justin Leonard.
11-Scott Verplank, Rory Sabbatini. 11:10-Ernie Els, Rocco Mediate. 11:20-Brad Faxon, Michael Clark II. 11:30-Notah Begay III, Loren Roberts. 11:40-Tom Scherrer, Dennis Paulson. 11:50-Robert Allenby, Carlos Franco.
12 p.m.-Vijay Singh, Stewart Cink. 12:10-Dudley Hart, Hal Sutton. 12:20-Jim Carter, Jim Furyk. 12:30-Phil Mickelson, Kirk Triplett. 12:40-Jesper Parnevik, Tom Lehman. 12:50-Tiger Woods, Paul Azinger.