Advertiser Staff
Fast-breaking Kahuku High clinched the school's first O'ahu Interscholastic Association Eastern Division girls' soccer championship yesterday.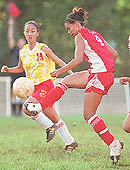 Kahuku's Natasha Kai attempts to control the ball as Roosevelt's Aashley Takafuji moves in to defend on the play.

Cory Lum • The Honolulu Advertiser

The unbeaten Red Raiders literally ran away from Roosevelt, 6-1, at Roosevelt to improve to 8-0 with one match to play. Second-place Kailua is 5-1-2 after playing to a 1-1 tie with Kalaheo yesterday.

Kahuku's fast attackers repeatedly broke through Roosevelt's defenders yesterday and found themselves 1-on-1 with the goalkeeper, or in one instance, facing an open goal. They won those matchups easily.

Natasha Kai, who is headed for University of Hawai'i on scholarship next fall, padded her division scoring lead with three goals. She opened the scoring 28 seconds into the game, getting the ball in front of the goal and kicking it past the keeper.

"We scored so fast that we went flat," Kahuku coach Randy Myers said. After a halftime pep talk, his girls "played much better in the second half," Myers said.

Natasha Kai broke away again for a first-half goal, and her sister, sophomore Krisha Kai, won a scramble for the ball when the goalie came out to challenge, and wound up kissing a goal into an empty net to give Kahuku 3-0 lead at intermission.

Freshman Tiana Ahue, who moved from defender to midfielder in the second half, also scored on a breakaway to open the second half, and Natasha Kai scored her third goal eight minutes into the second half when a throw-in bounced over the heads of the shorter Roosevelt defenders to her, and once again was 1-on-1 against the goalkeeper.

Marisha Huddy made it 6-0 five minutes later when she put in a rebound shot after a corner kick had been deflected out and a shot blocked.

Coach Shaina Caparoz of Roosevelt (2-3-3) called Kahuku "balanced" and Natasha Kai "a fantastic player. She has speed and talent and will be a major factor going into playoffs."

Kahuku has secured the Eastern Division's first seed and an opening-round bye in the OIA Championship Tournament, which starts Jan. 24.
OIA Eastern Division
Girls Varsity
Castle 0, Moanalua 0
Kalani 6, McKinley 0. Kaln-Jandi Iha, Kara Morita, Jillian Okamoto, Cherissa Tamayori, Shanna Tamayori, own goal.
Kahuku 6, Roosevelt 1. Kah-Natasha Kai 3, Tiana Ahui 1, Krisha Kai 1, Marisha Huddy 1. Roos-Kelsey Maikui Ah Mook Sang.
Kalaheo 1, Kailua 1. Kalh-Season Emmsley. Kail-Sarah Takekawa.
Girls JV
Moanalua def. Castle (forfeit)
Kailua 2, Kalaheo 0
Boys Varsity
Castle 3, Moanalua 1. Cast-Charlie Chiswick, Blaine Fujimoto, Darryl Tangonan. Moan-Breland Pedro.
Roosevelt 2, Kahuku 2. Roos-James Allison, Pedro Barros. Kah-Kyle Juliano, Bryson Au.
Kaiser 5, Farrington 1. Kais-Bobby Self, Landon Beers, Tim Kroessig, Clement Soon, own goal. Farr-own goal.



ILH
Boys Varsity
St. Louis 0, 'Iolani 0
Kamehameha 8, Damien 1. Kam-Cary Wong, Brandon Tario, Matthew Deimas, Makana Aiona, Nathan Silva, James Yates, Jacob Lovell, Po'ukela Hanson. Dami-Tim Picerno.
Pac-Five 5, Mid-Pacific 0. Ross Kodani, Jon Tamayose, Kevin Kapoana, Daniel Lau, Dane Nakasone.



BIIF
Hilo's boys remained undefeated and the Viking girls took over undisputed possession of second place yesterday as both teams defeated crosstown rival Waiakea at Waiakea.
Hilo's boys won 3-0 to improve to 9-0 and move closer to their second straight Big Island Interscholastic Federation title.
The Viking girls scored twice in the second half to beat Waiakea 2-1 and improve to 6-1, behind leader Hawai'i Prep's 9-0. Waiakea fell into a third place tie with Kealakehe at 5-2.
Hawai'i Prep's girls stayed unbeaten with a 4-0 victory over Kealakehe in windy Waimea on Tuesday.
In the boy's match, Masao Yoshimura scored on a header off a corner kick by Ryan Gleed at the 50-minute mark to give Hawai'i Prep an important 1-0 victory over Kealakehe.
HPA improved to 7-1 while Kealakehe dropped to 6-2.