Sir Elton returns
By Elizabeth Kieszkowski
Assistant Features Editor
What a difference a band makes.
Elton John with his band
8 p.m. today
Blaisdell Arena
$45, $65
591-2211, 526-4400 (Ticket Plus)

While many found Elton John's solo set last year lackluster, this time around you could truly say "The Bitch Is Back," even if Elton didn't play the song.

For his show at the Blaisdell Arena last night, he brought a solid — and loud! — electric outfit to Honolulu, including guitarist Davey Johnstone, who played guitar with Elton during the early '70s "Honky Chateau" era, and drummer Nigel Olsson, who started out with Elton way back when, before his first album was released in 1970.

"Sir Elton" himself was generous with his performance, playing a good cross-section of his greatest hits. Though he quickly sang himself hoarse in the course of the show — blaming a same-day rehearsal, made necessary by a delay in the delivery of the band's equipment — he connected with the audience, standing from his piano repeatedly to bow toward all corners of the arena, praising the crowd for its generosity and apologizing for his voice troubles.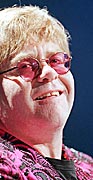 Elton John was generous with his performance last night, playing a good cross-section of his greatest hits.

Eugene Tanner • The Honolulu Advertiser

As for that rehearsal, Elton John and band took the trouble to cook up some arrangements with a special Island flavor, adding Martin

Denny-esque chimes and bird-calls to the steel-guitar-accompanied "Rocket Man."

Much of this set had real thunder; Olsson, playing his trademark white drumsticks, was rock-solid, and Johnstone, who played at least four different guitars to spit out glam, pop, rock, disco and even space-age steel-guitar country sounds, was clearly a master at this game.

The sellout crowd responded in kind, with waves of shouted praise and admiring applause. Many waved battery-lit red roses, sold at the show.

Wearing a hot-pink and black suit, with rose-tinted specs to match, Elton started out strong,

announcing that he would play "the entire first side of 'Yellow Brick Road,'" an utterly meaningful phrase to his mostly vinyl-era fans. Launching into "Candle in the Wind," his ode to Marilyn Monroe, he displayed his deep streak of sentimentality — a key element to his massive appeal. His voice and presence were strong, and the results were impressive.

"Benny and the Jets," a great, percussive ode to glam, was a highlight for the band. And "Someone Save My Life Tonight" was classic Elton John — gorgeous in a supremely emotional way. Though Elton employed a backup singer to help him hit the high notes, it didn't take away from the potency of this one-of-a-kind pop song.

There were more highs: a sincerely sung "Tiny Dancer" and a rock 'em, stomp 'em version of the Beatles' "Come Together," for two. Though a couple of Elton's numbers weren't at this level (and a few jarring synthesizer notes marred the singer's rendition of "Daniel"), overall the superstar's show was inspiring, strong and even sweet.