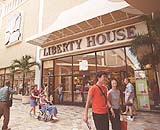 The chances of Liberty House emerging from three years of Chapter 11 bankruptcy proceedings improved yesterday after several high-profile creditors switched their votes, ending their opposition to a proposed restructuring plan. See story.

Advertiser library photo • June 28, 1999
Rival lowers Las Vegas tour cost
Hoping to share in Honolulu's growing kinship with Las Vegas, a large tour company is offering vacation packages that start as low as $329, including a hotel for three nights and round-trip airfare.

Judge OKs Liberty House vote reversal
A bankruptcy judge yesterday allowed a group of Liberty House creditors to reverse their previous opposition to a reorganization plan that would bring the kama'aina retailer out of Chapter 11.

Liberty House shelves Waikiki sublease plan

Bad news in the mail for 401(k) investors may
Stocks have been sliding for months now, but many investors will realize the extent of their losses only after reading annual retirement account statements that are in the mail this month.