By Brandon Masuoka
Advertiser Staff Writer
The man accused of the Christmas Eve murder of a Kane'ohe liquor store owner walked alone up to the victim, shot him with a semiautomatic pistol and drove away in the victim's van, according to police.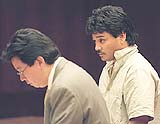 Murder suspect Eric K. Vance, right, appears in District Court yesterday with a public defender.

Bruce Asato • The Honolulu Advertiser

According to a police affidavit filed in court this week, Eric K. Vance, 31, was in a car with four other men when they drove into the parking lot of Angie's Market on Christmas Eve at about 10 p.m.

One of the men in the car told police that the group needed money and planned to rob someone, and that Vance jumped out from the vehicle and walked to store owner Song Chol Marshall who was getting into his van, the affidavit said.

The man said Vance pointed the weapon at Marshall while he was in the van, adding that he heard a shot and then saw Vance drive the van from Angie's Market onto Kane'ohe Bay Drive, the document said.

Vance yesterday appeared in Honolulu District Court for his arraignment on charges of second-degree murder, first-degree robbery, driving the stolen van and firearm counts.

He is being held in lieu of $250,000 bail.

The murder of Marshall shocked the Korean community and grabbed the attention of Police Chief Lee Donohue who assured the community that the case would be resolved.

Police later found Marshall's 2000 Chevrolet Express Van in flames in Mapunapuna and found Marshall's body with a gunshot wound to the head in a dumpster in Waimanalo.

Vance and four other men were arrested this week in connection with the murder of the 45-year-old victim, but the four were later released without being charges. Police and prosecutors are continuing to investigate.

Police homicide Lt. Bill Kato said Vance was trying to get Marshall out of the van, but the store owner apparently resisted. "We're not sure what words were exchanged," Kato said.

Kato said the four other men with Vance allegedly tried to hide the crime, dumping Marshall's body inside a Waimanalo trash bin and then torching the van in Mapunapuna.

Kato said an undisclosed amount of money was taken from Marshall.

Police have recovered two guns in the investigation, including one that police believe is the murder weapon, Kato said.

"The 9mm is believed to be the murder weapon; an anonymous person turned it into us late Wednesday night," Kato said. "We're confident that it is the murder weapon. But we can't say 100 percent sure until the gun is test-fired."

He said the other weapon, a .45-caliber gun, was found in the apartment where Van was arrested.

According to the Hawaii Criminal Justice Data Center, Vance has 20 convictions, including second-degree theft, auto theft, prostitution and weapons and drug offenses.