By Curtis Lum
Advertiser Staff Writer
By 5:30 a.m. yesterday, more than 50 people were waiting for the doors to open at the new Pearl City Dunkin' Donuts.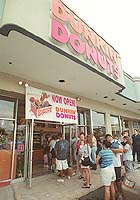 Demand at the Dunkin' Donuts store that opened yesterday in Pearl City was so high that the franchise owner expected to sell 20,000 doughnuts.

Richard Ambo • The Honolulu Advertiser

By 9 a.m., customers had snapped up so many doughnuts — more than 300 dozen — that some had to wait about 45 minutes for the next batch to arrive from the store's Iwilei bakery.

"We expected to be very, very busy, but we didn't expect a jam-packed parking lot and people waiting," said franchise owner Ken Iong. "This way exceeded our expectations."

The bustling opening marked the return of the world's largest chain of coffee and doughnut shops to the Islands after a nearly six-year absence.

Iong, president of Honolulu foods wholesaler Sushi Chef, contracted last year with the Randolph, Mass.-based Dunkin' Donuts to own and operate the Hawai'i franchise.

The Pearl City store, at 98-425 Kamehameha Highway, is the first of at least 10 Dunkin' Donuts stores that Iong hopes to open in the Islands over the next three years.

The chain initially came to Hawai'i in 1966 through a franchise with the owner of Foodland Super Market Ltd., but was sold in 1970. Subsequent operators had trouble sustaining the brand and by 1976, the four-store franchise was down to just one location at Ala Moana Center. That store closed in 1995.

With the reopening by the chain yesterday, customers traveled from across O'ahu to select from more than 20 varieties of doughnuts.

By the end of the day, Iong said he expected to sell more than 20,000 doughnuts.

Customers' slam-dunk favorite? Boston Creme.