By Scott Ishikawa
Advertiser Capitol Bureau
Jaime Go nervously watched traffic zoom by yesterday as a city crew installed a traffic signal along North King Street near Peterson Lane.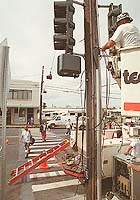 Crews yesterday installed a stoplight at a Kalihi-Palama area crosswalk where several pedestrian accidents have occurred. The light was to be activated today and fully operational next week.

Richard Ambo • The Honolulu Advertiser

"I get scared watching my customers cross the street, I get scared watching the city workers dodge traffic," said Go, who manages the Palama Grocery Liquor & Vegetable Store.

The store is next to a crosswalk where numerous pedestrian accidents have occurred. And, after years of community requests, the city plans to activate a traffic signal at that 62-foot-wide stretch of road at 3 p.m. today.

Last Tuesday evening, a 75-year-old man and 73-year-old woman were hit by a truck while in the crosswalk. Two months ago, a 68-year-old pedestrian was killed after being struck by a car there.

"I heard the screech of braking that night," Go said about the latest accident.

"I ran outside and this old couple was rolling on the ground in pain."

Although the couple were hospitalized, neither the man nor woman was critically injured.

The accident convinced city Transportation Director Cheryl Soon that the crosswalk needed a traffic signal. The week before, city crews had placed yellow flashing lights and warning signs at the site, and had repainted the crosswalk markings.

City spokeswoman Carol Costa said the intersection will now have stoplights on both sides of the street, and one hanging overhead.