Highest surf of season of season hits North Shore
See a video clip of Eddie Aikau contest winner Ross Clarke-Jones (in light green shirt), followed by Marvin Foster. Click for big (2.3 Mb) or small (827 kb) version. QuickTime plug-in required.

By Dayton Morinaga
Advertiser Staff Writer
Amid a storm of thundering North Shore waves, Ross Clarke-Jones was the calm.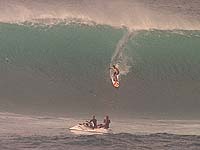 Keone Downing, one of only three former champions in the Quiksilver In Memory of Eddie Aikau prior to yesterday's running of the prestigious contest at Waimea Bay,

Bernie Baker photo

In almost eerily-cool fashion, Clarke-Jones won the Quiksilver in Memory of Eddie Aikau big-wave surfing contest yesterday at Waimea Bay.

The contest is held only when waves are in the 20-foot range and ridable. Because of that standard, it has been completed only four times since its formation in 1986. The last time that "The Eddie" went was 1999.

Yesterday, waves ranged from 15 to 25 feet throughout the day, and Clarke-Jones was clearly the top performer among the 24 invitees.

"I've devoted a solid 12 years of my life to this event," said Clarke-Jones, 34. "I spend my whole winters here with the hope of winning it."

Perhaps because of that kind of preparation, Clarke-Jones said he was surprisingly calm amid the chaos of huge waves and crowds that gathered at Waimea Bay yesterday.

"I found out the contest was on at 6:30 (yesterday morning), and I got my boards ready and was just calm all day," said Clarke-Jones, who is from Australia. "I think because I wasn't anticipating it to go. Usually, you get kind of an idea the night before if it's going to go and you get all restless and nervous. But I honestly didn't think it was going. I didn't think it would be big enough."

It took all of one wave to erase any doubts.

On Clarke-Jones' first ride of his first heat, he charged into the wave of the day — a 25-footer.

"That one just came and I was in the right spot," he said. "I was sitting there waiting, and then it came and there was no one around me. I had a sliver of doubt at first ... but once I landed it, I knew it was nice."

Indeed, the judges rewarded the ride with a score of 92 (out of 100), which would not be topped the rest of the contest.

Each of the 24 competitors got to surf in two separate one-hour heats. The top four rides from either heat counted toward each surfer's final score.

Clarke-Jones recorded the top two individual scores of the day — he added a 91 for a ride down a 22-foot wave in his second heat — and had a final tally of 319 (out of 400). No other surfer scored more than 300.

"Ross deserves it," said fellow Australian Paul Paterson, who placed third. "He set the standard with that first wave. After that, I think we all knew who we were chasing."

Shane Dorian of Kailua-Kona came the closest, finishing second with 292 points. If there were a most courageous award, it would go to Dorian.

He paddled into some of the day's biggest waves, and survived some of the biggest wipeouts.

"I think you get kind of excited, and then you just go for it," he said. "I felt like if the biggest wave of the day came, I was going no matter what. That's what it's all about."

Clarke-Jones had a more subtle approach. After successfully riding down the 25-foot monster wave in his first heat, his strategy in his second heat was patience.

"I knew I had that one good one, so I just wanted to back it up with three more," he said. "I wanted to wait for the best ones."

It paid off when the other five surfers in the heat paddled into waves early in the heat. For the final 15 minutes of the heat, Clarke-Jones was all alone with 20-foot waves on the horizon.

"I was like, 'Thank you, God,' " he said. "It was so nice to be out there with sets — walls of pleasure — coming right at you. I felt like a kid in a candy store and I didn't know which candy to pick."

Ultimately, he chose two near-perfect waves that clinched the $50,000 first prize.

"It's more about the prestige of winning this contest than the money," he said.

To be sure, Clarke-Jones is the fourth champion in the history of the contest, and the first not from Hawai'i. Previous winners were Clyde Aikau (1987), Keone Downing (1990), and Noah Johnson (1999).

"It's special because I haven't seen Waimea this good since I've been coming here 15 years ago," Clarke-Jones said. "It was pristine, just perfect."

Still, the treachery of the powerful waves was not lost. Two competitors — Johnson and Marvin Foster — suffered rib injuries; Brian Keaulana shattered an ear drum.

The contest's namesake was not forgotten, either. Eddie Aikau, a former Waimea Bay lifeguard and big-wave surfing legend, was lost at sea during a rescue attempt for the voyaging canoe Hokule'a in 1978.

"It's more about immortalizing somebody who was a hero in Hawai'i," said Dorian. "It's an honor just to be in the competition, no matter how you place."

But just for the record, Dorian received $10,000 for second, and Paterson $5,000 for third. Ross Williams of Hale'iwa was fourth, followed by six-time former world champion Kelly Slater of Florida.

Final Results

1. Ross Clarke-Jones (Australia), $50,000.
2. Shane Dorian (Hawai'i), $10,000.
3. Paul Paterson (Australia), $5,000.
4. Ross Williams (Hawai'i), $3,000.
5. Kelly Slater (Florida), $2,000.
6. Tony Moniz (Hawai'i), $1,000.
7. John Gomes (Hawai'i), $600.
8.(tie), Darryl Virostko (California)
8.(tie) Peter Mel (California), $600.
10. Clyde Aikau (Hawai'i), $600.
11. Russ Keaulana (Hawai'i), $600.
12. Cheyne Horan (Australia), $600.
13. Keone Downing (Hawai'i), $600.
14. Myles Padaca (Hawai'i), $600.
15. Tony Ray (Australia), $600.
16. Braden Dias (Hawai'i), $600.
17. Keoni Watson (Hawai'i), $600.
18. Brian Keaulana (Hawai'i), $600.
19. Garrett McNamara (Hawai'i), $600.
20. Jamie Sterling (Hawai'i), $600.
21. Noah Johnson (Hawai'i), $600.
22. Elijah Young (Hawai'i), $600.
23. Marvin Foster (Hawai'i), $600.
24. Pancho Sullivan (Hawai'i), $600.