By Ann Miller
Advertiser Staff Writer
KAPALUA, Maui — Ernie Els is again living large in the enormous confines of the Plantation Course and Mercedes Championships. Like any good golfer who has been burned before, Els is also looking over his shoulder.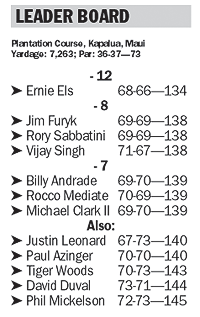 He shot a 7-under-par 66 yesterday, in 10-to 20-mph winds, and is 12 under at the halfway point. Vijay Singh (67), Jim Furyk (69) and Rory Sabbatini (69) are four back.
Closer to Els' heart, and nine strokes back, is Tiger Woods — the man who caught Els on the last day here a year ago, then beat him in sudden death.
Woods beat just about everybody in a 10-win, $9 million season. But he was particularly tough on Els, also rendering him a runner-up at the U.S. and British Opens and The Memorial.
It was enough to give the Big Easy — a nickname that vividly describes Els' swing and demeanor — more than a Little Doubt. He was more than candid about it yesterday, admitting he always scoured scoreboards for Woods' name.
"In a regular Tour event, you've got to try and beat 153 guys and Tiger," Els said. "This week, you've got to beat 32 guys and Tiger."
Els could do little more than he has up to now. He didn't make a bogey yesterday, and admitted, with some shock, "I don't think I made a mistake."
Ernie Els missed this eagle putt on the 18th, but made a birdie to shoot a 66 yesterday and grab the lead at 12 under par.

Gregory Yamamoto • The Honolulu Advertiser

He drained seven birdie putts and missed four more from inside 10 feet, much like his first-round 68. Els is now 28 under in six rounds at the Plantation, and loving paradise, where golf games aren't slowed by snow and fairways are so huge he never has to hold back.

"Ernie hits it three miles and straight, and putts real good," said Rocco Mediate, whose 69 left him tied at seven under with Michael Clark II (70) and Billy Andrade (70). "That's why Tiger has done well here, why David (Duval) has done well. They hit it miles. They have the whole package, but they hit it far."

Els is immensely comfortable. The wind yesterday blew much like the wind Thursday, which was similar to all four rounds last year. Without "too many mysteries with club selection," and still feeling the surge of good golf that gave him the fifth-best financial season in history last year, he's playing as if he owns Kapalua.

Now if he, and anyone else, could just get the best of Woods.

"I feel comfortable on the course," Els reiterated, as if trying to convince himself. "If I can continue playing the way I have been, it's going to be difficult for him to catch me."

Golf was difficult for Woods yesterday, for one of the few times in recent memory. He had to take drops from unplayable lies twice, bogeyed the first three par-3s and needed a long birdie putt at the 17th to sustain his streak of 49 consecutive rounds at par or better.

"It could have been a lot worse, but then again it could have been a heck of a lot better," Woods said. "I didn't do too much damage out there, but I hurt the golf course a little."

First-round leader Justin Leonard (73-140) had to birdie four of the last five holes to compensate for an early double bogey and an ugly three-putt at the 17th. He is tied for eighth with four others, including Sony Open champion Paul Azinger (70), who was six under on the back nine.

Els' closest pursuers have much in common with him. Singh and Sabbatini also battered the par-5 holes, playing them in five and six under, respectively. Furyk has gone 36 holes without a bogey, which gives him one less than Els.
SHORT PUTTS: Jesper Parnevik went from an opening-round 76 to a second-round 66 and jumped up to 16th place. ... Only six players are over par. ... Justin Leonard came up two inches short of acing the second hole yesterday. He settled for one of two birdies the Plantation's toughest hole — for the day — gave up. ... Major champions Paul Azinger, John Daly, Ernie Els, Steve Jones, Davis Love III, Corey Pavin, Vijay Singh and Tom Lehman are on the final commitment sheet for next week's Sony Open in Hawai'i. The list also includes 23 players in this week's field, including Notah Begay III, Stewart Cink, Brad Faxon, Jim Furyk, John Huston, Jesper Parnevik and Duffy Waldorf. Those missing include Tiger Woods, David Duval, Phil Mickelson, Justin Leonard and Hal Sutton.