Associated Press

BOSTON — Picture an electronic billboard on the move and changing its message minute by minute, depending on who's looking at it.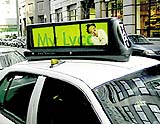 Mounted on the tops of taxi cabs in Boston are electronic billboards that change messages, thanks to a satellite feed, when in different sections of town.

Associated Press photo

In the financial district, stock prices scroll across the screen. In Chinatown, pedestrians would see ads in Chinese. During late nights near city hot spots, the billboard will show singles ads.

This new type of communication, created by Somerville, Mass.-based Vert Inc., debuted this month on a cab in downtown Boston. The company hopes soon to expand into the taxi capital of the world — New York City.

Color messages can change block by block, depending on the time of day and location, using a satellite feed and wireless Internet link.

"It's taking a staid (advertising) environment and busting it up," said Brad Harkavy, Vert chief executive officer.

Essentially, Vert has created a sort of Web browser that can be mounted on a taxi roof. Vert's software enables a Web server to read the taxi location through a satellite tracking system, and transmit ads appropriate to the time and place to the billboard screens.

That means a baker selling doughnuts can send his ads in the morning. A company pitching to college students can show its ads when the cabbie drives through Harvard Square. And because the system is Internet-based, changes can be made quickly.

A computer tracks where and how often the ads are shown, and the advertisers pay accordingly. Vert, in turn, pays cabbies for roof space.

The idea for the billboards came in June 1999, when the wife of Vert founding director Semyon Dukach got angry at another driver and wished aloud for an electronic bumper sticker on which she could transmit a piece of her mind.

The remark gave Dukach the idea of a car "talking" to pedestrians and other drivers — maybe wishing them "Happy Birthday" or pitching products.

The idea circulated around Cambridge's high-tech circles. A year and a half later, helped by $1.5 million from investors, Vert has a cab on the street and 10 employees.

Vert's billboards will cost about $5 per 1,000 impressions, Harkavy said. The standard rate is about $30 to $50 per 1,000 impressions for targeted advertising.

The responsibilities for the cabbies are minimal — turn on the car and the billboard works. If the cab breaks down or gets in some other trouble, the cab's location is always known, and a switch turns the billboards into a glaring red call for help.