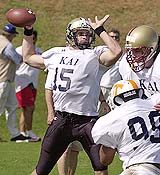 Purdue quarterback Drew Brees worked out Maui yesterday in preparation for Saturday's Hula Bowl. Scouts say he and Virginia Tech's Michael Vick are the top quarterbacks in the NFL draft. See story.

Grgeory Yamamoto • The Honolulu Advertiser
Ishii qualifies for Sony Open
Pearl Country Club pro David Ishii, a fixture for more than 15 years at the Hawaiian and Sony Open tournaments, will continue the trend after earning one of four qualifying spots yesterday at the Pearl Country Club.

Advertiser Special: The Sony Open
Preview the Sony Open in Hawai'i 2001, including hole-by-hole descriptions, information on parking and bus service and stories on defending champion Paul Azinger and the comeback of Scott Simpson.

Life is a breeze for Boilermaker quarterback
To be one of the best quarterback prospects in the nation, to be successful and admired, yet generous and kind ... ah, such a life is a Brees. Scouts are sizing up Purdue quarterback Drew Brees at this week's Hula Bowl.